Tolstoy's Christian-peasant anarchism was more radical than bourgeois liberal reformism but less radical than Marxist proletarian-revolutionary socialism. Lenin recognized Tolstoy's two-sided role in Russia's ideological and political spectrum.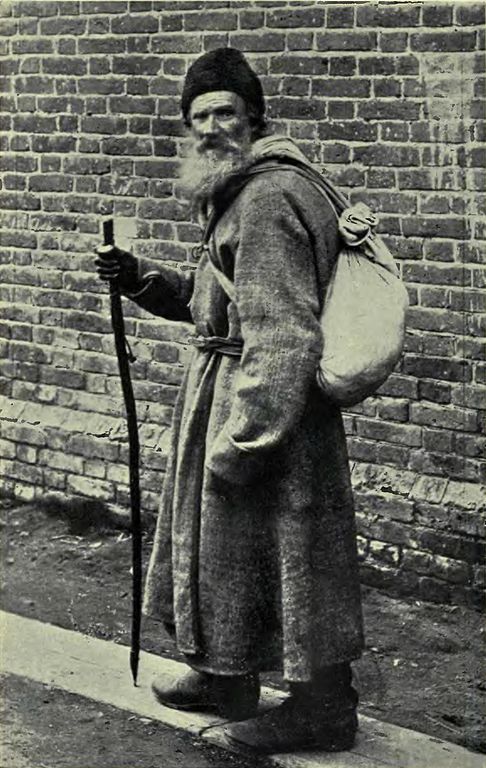 "On the one hand, an artist of genius, contributing not only incomparable pictures of Russian life, but literary productions of the first rank that belong to world literature. On the other hand, a landowner, wearing the martyr's crown in the name of Christ. On the one hand, an extraordinarily powerful, direct, and sincere protest against social lies and hypocrisy; on the other, a Tolstoyan, that is, a worn-out, historical sniveler called the Russian intellectual, who, publicly beating his breast, cries: I am bad, I am vile, but I am striving after moral self-perfection; I no longer eat meat and now live on rice cutlets." (Lenin, 1908)
"Tolstoy transferred the ownership of his estate to his wife and children in 1890, and the following year he publicly renounced the copyrights to all his books." (Simmons, 1946)
"In many books printed during Tolstoy's life we find 'no rights reserved.' Literary property, accordingly, is the common property of mankind." (Stanoyevich, 1926)
"Common property of mankind," take note. Will the petty-bourgeois progressive culturati be able to do what Tolstoy did?
Recalling the progressive Filipino writers I've come to know in the past decades, only a few really come close to Tolstoy's radical lifestyle change and renunciation of private literary copyright: Gelacio Guillermo, and Romulo Sandoval (who sadly died of cancer at a young age).
I'm sure there are more. Most of them are probably anonymous writers that are published by the underground press.
My own position has always been against private intellectual property rights, and in favor of placing creative works in the public domain as a pillar of a more progressive intellectual production regime.
This leads me in principle to a head-on conflict with progressive writers and artists who support the current imperialist-driven WTO-IPR regime. I tend not to make a huge issue of this, however, being content to refer everyone to something I wrote almost twenty-five years ago on a people's alternative to IPR. #
Follow @junverzola
Inspired by a Facebook post of the Windham Free Library.