Here I am, blogging again after a period of hiatus.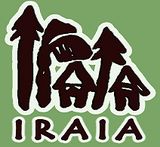 The first Iraia website that I produced was hosted by the Baguio City node of the now-defunct CyberSpace Inc. (CSI), a local ISP, using the Linux home page of a standard CSI account (you know, with the trademark ~) and updated tediously through BSSD. The Iraia philosophy is expressed in more detail in one of its pages.
At the same time, I had the iraia.net domain name registered on 1 April 2001, and I now consider this date as IRAIA.NET's official birth date (although I also had the defunct IRAIA commercial trademark registered with the DTI much earlier, in 1995). I produced the second Iraia website in February 2002 on a new web hosting provider. Some of its pages are still archived at the Internet Archive website. This second website, shuttling between WordPress and Joomla during those years, began to falter in 2007-08. It died on me in 2009 after a particularly extensive site-wide crash.
Meanwhile, I helped Northern Dispatch (NORDIS) Weekly develop and maintain a news blog from 2001 to 2006. The blog was also in WordPress, and the underlying Web host infrastructure was very similar to my personal website. Apart from that, I also helped develop the website of the Cordillera Peoples Alliance in 2003, if I remember right. But it wasn't a blog in WordPress, and was very tedious to maintain.
I also kept another personal blog in an anonymous site from 2006 until 2009. I'll write about this later.
Then, from 2009 until very recently (mid-April this year, to be exact), I worked as one of the senior editors for GMA News Online. The hours were long and the workload heavy, so I didn't have time to blog on my own. The GMA site had a section that allowed me to post blogs, but it felt like I didn't have the energy to write beyond what my work required me to do. Also, it was the time when Facebook was always a tempting platform for self-expression, not to mention reading what others had to say. Facebook and its leaner, more strung-up cousin, Twitter. Thus, my blog output from late 2009 to early 2011 plummeted to near-zero.
Now that I'm doing another kind of work, which seems less toxic than the earlier one, I will try to blog again regularly. I haven't found my muses yet, but I'm sure they will come and amuse me.
Wish me luck!
###