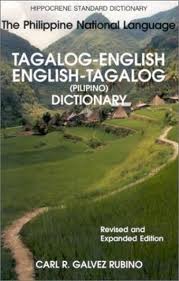 No, this isn't an ultra-nationalist or racist rant, and sorry if the title sounds that way. In fact, right now I'm having a long and lovely affair with (or rather, rediscovery of) Spanish culture and language. I threw a little farkin' title up there, so I'll have your attention when I lash away at ignorant mongers of fake loan words from Spain.
For now, I'll dwell on merely two of the many pseudo-Spanish words imported into Tagalog-Filipino–some of them having gained currency in recent years, thanks to reporters, writers and editors who don't know any better.
One  is "polisiya," which more and more writers and speakers in Tagalog-Filipino are misusing to mean "policy," perhaps on the idle presumption that English words ending in -cy or -sy automatically translate into Spanish words ending in -cia or -sia, and therefore become Pinoy loan words ending in -siya. You know, like democracy=democracia=demokrasya, or fantasy=fantasia=pantasya.
But English policy translates to Spanish política. It's English police that translates to Spanish policía. In this age of Google Translate, not to mention our rich Spanish-language heritage, the distinction should be very obvious to Filipinos, who after all have been using pulisiya for many generations to mean police and not policy. Also, there are two well-accepted Tagalog terms, patakaran and palakad, that almost exactly maps to the range of meanings covered by English policy (except in the sense of "insurance policy").
So there's absolutely no reason why reporters, writers, speakers and even editors would allow this pseudo-Spanish word polisiya to mean policy in Pilipino. It's confusing, it's false etymology, it even looks weird.
The other presumed loan word from Spanish is not as popular as polisiya, but I still hear it uttered in such a funny way every now and then. It's groseriya, which is supposed to mean grocery (the store) or groceries (goods bought from the store). Well, guess what? Sp. grosería means rudeness, gross behavior, or insult. There's no Sp. grocería.
What is it that makes otherwise intelligent and educated Filipinos adopt such freak words into our beautiful language? Is it mere linguistic ignorance or laziness? There is that, but I don't think it's the main cause, for many reasons too long to discuss now. I think it has to do with a tendency to prettify a plain word if we want to dress up the meaning behind the word. Some of us think that patakaran is such a pedestrian term (I think it's a beautiful word!), so we glorify, even mystify it with polisiya.
And while we're at it, may I also ask our linguists what it is in our culture that turns Spanish la mierda ("the shit") into Pinoy lamiyerda (or lakwatsa), Sp. leche ("milk") into a crisp cuss word,  and Sp. tienes ("you have") into a catchall word that can mean anything under the sun or nothing in particular (as in chorva tienes). I know these transfigurations come from different mechanisms than the one that produced polisiya and groseriya. But I suspect that, deep down, these words are manufactured by the same busy areas of the Pinoy's frontal lobes that constantly spew out tons of junk and ounces of precious jewels which ultimately reshape our language and culture.
So there. There's good with the bad, admittedly. But next time I hear someone say, "Aaralin munang mabuti ng Malakanyang kung dapat baguhin ang polisiya," I'll strangle their neck and will not relent, despite their pleas of mercy, until they use the correct term and tumawag sa pulisya para kagyat na rumesponde. (There's another popular reporter's term, responde, but I think it passes muster as a good and useful loan word.)
P.S. While I was doing a quick Google look-up about lakwatsa, which comes from Philippine Sp. la cuacha ("skip classes"), I came upon this snippet of the book La lengua española en Filipinas: historia, situación actual, el chabacano… by Antonio Quilis and Celia Casado Fresnillo. I'd love to have a copy of this book, if only to drown myself in its rich trove of examples of how Filipinos reshaped the Spanish language through the centuries, of how Sp. seguro ("certain") became Pil. siguro ("possibly"), how Sp. siempre ("always") became Pil. syempre ("of course"), and hundreds of other curiosities.