Have you ever been pleasantly surprised to find an object from long ago when you were young? You probably made it, or kept it, merely to pass the time away and to kill boredom. And now that you find it, many years later, you realize that it serves as your magic door to precious memories?
Here's one I did back in 1973 as a young teenage boy.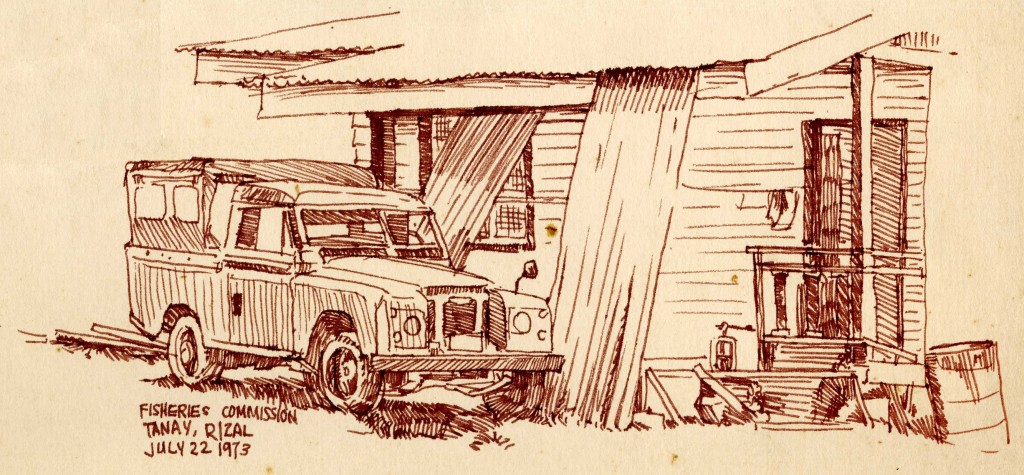 Mama was such a whirlwind businesswoman that she was always into one project or another. We hardly saw her relaxing at home. Perhaps her best form of relaxation was inviting our many relatives or her many Church friends to a party, but even here she was the busy organizer. She was always busy planning, updating her records, supervising purchases, etc. And she expected us kids to become busy-bees like her.
Her lifelong pet project was construction, especially building farmhouses and low-cost apartments. But, for a few years in the early 1970s, she was into fish production. A few times she built small fishponds in a parcel or two of the lands she acquired, stocked them with fish, and got someone to take care of the fish until they were ready for harvest.
And I, being a teenage boy who was starting to enjoy rock music and girls, couldn't quite appreciate her enthusiasm for fishponds. I was already into radical politics, having been an activist since 1970 and having been just released from a Fort Bonifacio prison in the summer of 1973. Mao's parable of fish in the water notwithstanding, fishponds just weren't in my top-10 list of urgent things to do.
Now, my mother's character is that she won't go into a project without immersing herself in the technical details, literally down to the brass tacks, iron nails, and cement bags. And she would always try to involve us (three boys and a girl) in the process. She expected us to get our hands dirty and our feet wet. She set herself as a good example, so I was often too shamed to refuse.
To make a long story short: One lazy weekend in July 1973, Mama decided to go on a long out-of-town trip to attend a seminar-workshop about the wonderful world of catfish breeding. Yes, you heard that right. Catfish breeding. She wanted to learn the latest cutting-edge technology for test-tube sex among catfish. And she insisted that I adopt her pioneering spirit and join her in this noble scientific enterprise with its huge economic potential.
I was underwhelmed by such an awesome prospect of a fish-full and fun-less weekend. But I also wanted to follow a self-imposed rule, not to provoke my parents unnecessarily. Their hair had turned nearly white working out my release from prison, and they were urging me to go back to the university rather than join up with my elder brother who was still in the deep underground fighting the U.S.-Marcos dictatorship.
In my overall scheme of things, a catfish weekend was no big deal. So I agreed to go with her.
We traveled to a Fisheries Commission training center located in the picturesque lakeside town of Tanay, Rizal. The facility was nestled between two outliers of the Sierra Madre foothills jutting into the clear waters of Laguna de Bay. I lugged along my green rucksack of books, sketchpad, and a set of colored pens as my weapons against boredom.
Day One was tolerable. The lecturer was a pretty fisheries researcher from UP Los Banos. My mother and I listened and watched as she showed us how to handle tweezers to squeeze out catfish semen and eggs, how to set up glass piping for test-tube sex, and how to convert aquarium tanks for spawning. It helped that I was familiar enough with lab work to assist my mother in learning the ABCs of catfish breeding.
Day Two was bleary and dreary as we patiently watched the eggs spawn and hatch, and learned how to transfer the fry from one tank to another. That was when I said to Mama, "Ma, bahala ka na muna diyan a. Dito lang ako sa labas. [You take care of things, Ma, while I step out for a while.] I'm going for a walk." Actually, I sort of wanted to look for the pretty lecturer, hoping to find the courage to ask her about other types of breeding techniques. It was a purely scientific impulse on my part, mind you.
From tank to tank and from gate to garage I searched in vain for my catfish sex instructor, my elusive Botticelli Venus. I trudged up and down the training center's pathways until, overcome by the rustic quiet, this lazy city boy simply decided to plop down under a tree, take out his sketchbook, and draw whatever it was in front of him: namely, the rundown garage and a rickety Land Rover. I wasn't planning to sketch the preliminaries of my own obra maestra. I was just doodling away the afternoon with a sepia-colored pen.
Quickly did the hours take flight. Before I realized it, the seminar-workshop had ended. Mama was ecstatic and excited to start her own catfish nursery. But I was vaguely disappointed that we had to go so soon without my even getting to know the pretty lecturer's name. I stuffed everything into my rucksack, and Mama and I rode back to the city, tired and sleepy.
Later that year, I would fall in love with the magical world of making intaglio prints, thanks to the patient mentoring of Orly Castillo and the kind folk at the Printmakers' Association of the Philippines, whose atelier along J. Bocobo in the Ermita district became my second home, almost. I surrounded myself with new sketchbooks, rolls of Strathmore, printers' inks, zinc plates, and books on Goya. My old sketchbooks, together with my other forgettable stuff, I stacked on a top shelf in the boys' bedroom, and forgot about it for the next 30-plus years.
There they stayed, until my wife found time to sort out the sketchbooks again.
Gazing at this particular drawing takes me back to precious memories of a lakeside weekend. The fresh lakeshore breeze blowing across the winding roads of Teresa and Baras… Mama and I with tweezers teasing out catfish eggs amid fragile glass piping … and a pretty researcher who taught me all I needed to know about breeding techniques, but whose impish smile I never had the chance to capture on my sketchpad. #