Tribute to a comrade and friend
Good afternoon, comrades, friends, and the many relatives gathered here today. I am Jun Verzola, a peripheral and sometimes-prodigal son of the Cordillera region. I have known Ben Solang for more than 30 years, and closely worked with him for about half that time. My wife Mel, who worked more closely with Ben during her stint with RDC-Kaduami, also asked that I speak for the both of us.
We last met Ben this December, in a quiet corner of Jack's Restaurant, where we updated about many things, but most excitedly chatted about his newly published book, Dap-ay Discourse Uno. I can go on and on about the book's background, my earlier chats with Ben about how veteran activists should now be putting all of their experience into book form or at least into manuscript, and so on. But I'm told I only have 3-5 minutes to speak.
And so for now let me share only a few memorable vignettes about Ben, and insights about growing old like him: gracefully but militantly. Ben, if you are listening right now, and you find a few mistakes in my recollection, please correct me in your typical gentle manner: ipariknam to kanyak madamdama (give me a sign sometime later).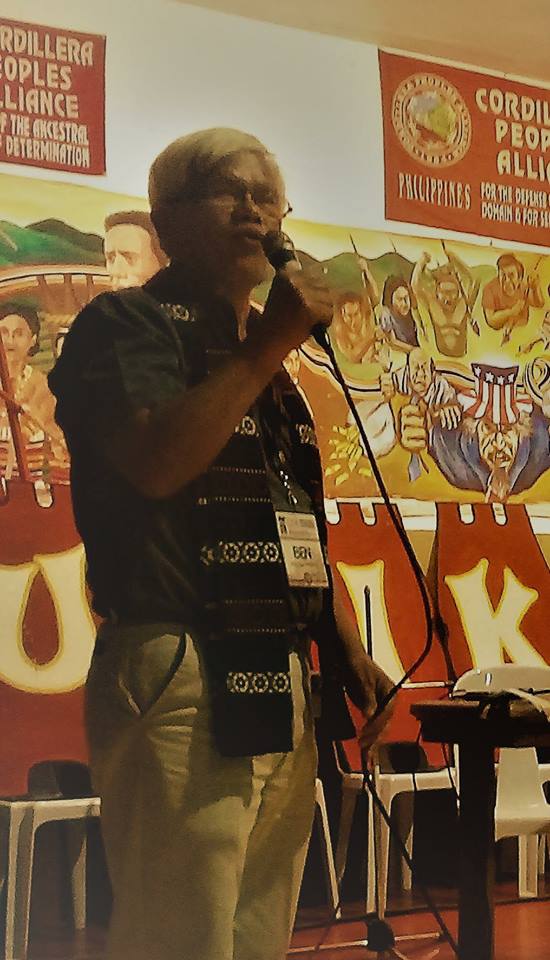 Mel and I first met Ben together with other leading Cordillera activists sometime in 1984, somewhere in northern Sagada near the boundary with Besao, where the New People's Army roamed and was tagged by the local masses as the "Nice People Around". It was just a short meeting, nothing memorable, and we were not even formally introduced.
But even with the few snippets of information I picked up about him that time, he was already someone I was bound to admire. Here was a humble Sagada boy who became a national-democratic (ND) and Igorot minority activist, and who went on to become an environmental planning expert and executive director of Montañosa Research and Development Center (MRDC), a grassroots NGO already known back then for its ground-breaking work on appropriate technology and farmers' contributions to sustainable agriculture and renewable energy.
I also remember reading a local news story about the much-attended Ben Solang-Beth Macliing nuptial. Parang celebrity ang tingin ko sa kanilang dalawa noon (I viewed the couple back then like celebrities), especially since both of them were already well-known among progressive circles in the region. So for me it was like an admiration from afar.
Ben was a diligent scholar and writer, who combined his activism with professional expertise. Among the very first research papers I read about the Cordillera question was his work, "The Marginalized Economy in the Cordillera Interior." This paper was published in the seminal book Dakami Ya Nan Dagami (Papers and Proceedings of the 1st Cordillera Multi-sectoral Land Congress) in 1983.
I invite others who want to familiarize themselves with questions of land and economics in the Cordillera interior to read this book. Much of its economic data are already dated by 40 years, but many of the conclusions remain valid.
Ben's paper included a case study on the breakdown of subsistency in Bugnay village of Tinglayan, Kalinga, complete with a detailed table of how the village economy gradually evolved from the year 1900 onwards. Ben's particular approach is still a model of political-economic analysis. It remains theoretically sound. At the same time, it was solidly grounded in the local people's daily concerns.
Imagine a paper that discussed not just about the general trends of commodity intrusions into an interior village with a subsistence economy, but in a surprisingly detailed way, traced decade by decade how matches, GI sheets, and other household items we now take for granted found their way into Bugnay.
The other contributing authors of Dakami Ya Nan Dagami also impressed me, but it was Ben's paper which I remember the most. And I hadn't really worked with him yet.
Ben and I started working together on particular projects and interacting closely in the 1986-1992 period. Those were heady times, during the early post-Marcos years under then President Cory Aquino. It was the time of major government initiatives on regional autonomy, ancestral land recognition, and the avalanche of foreign funded projects by EU and UN.
Ben, like many other Cordillera activists and development workers, undertook a process of understanding and adjusting to the new situation. He welcomed the challenge, leading the Cordillera's many progressive NGOs to clarify their role in pushing for genuine development in the context of nationalism, genuine democracy, and indigenous people's rights. He was very realistic about funding opportunities and also possible pitfalls.
I particularly appreciated Ben for his efficient management of NGO development funds and projects. But he did not turn into an NGO bureaucrat—a big pitfall for many former activists. Rather, he became even more prominent as a leader of the Cordillera Peoples Alliance, and kept himself very much grounded in the realities of the mass movement especially in the rural areas. His gentle ways of dealing with all sorts of people remained, whether he was talking with a Kalinga peasant or to a European funding agency official.
I particularly remember him totally immersed in the integrated area planning and projects in Kalinga, despite worsening militarization in the region. At that time, around 1988-1990, Army battalions were already pouring into key areas in Kalinga and Apayao. Ben, like many other activists, remained unfazed despite the relentless witch-hunting against the CPA and Cordillera NGOs, especially those working in the rural areas suspected to be NPA guerrilla fronts.
In fact, until the end, he was consistent and proud in being an ND activist, an advocate of socialism who applied Marxism-Leninism to the people's daily lives and struggles. He studied Marxist and Leninist theories on political economy, historical materialism, and the national question, but made sure to apply them correctly in his line of work.
Ben dared to visit areas known to be guerrilla fronts. One imagines him easily fraternizing with CPP-NPA forces in villages known to be their bulwarks, and finding areas of convergence on the basis of the people's real needs. That was his strength: finding areas of convergence and flexibility while remaining steadfast in principle.
Not many may know this, but during those days, while hiking the endless mountain trails connecting Cordillera villages, Ben was a model of uncomplaining physical endurance. I remember one time when we were trudging on such a trail in the rain, heading back to the city after an extended village visit, soaking wet, with some of us (including me) running a fever. In the rain, we had to start fording a fast-flowing river. Without flinching, Ben lifted one of the heavy boxes across his shoulders, onto his head, and with his strong legs slowly navigated through the slippery boulders and treacherous potholes submerged in the river bed, most carefully choosing step after step. And I, who was weakened with fever and a lot less experienced in crossing rivers, literally followed his every step, learning to grope with the soles of my feet like he told me.
Many times would I note how Ben could take on challenges like this—whether a highly mental, extremely physical, or simple menial task, and do it without complaints, even cheerfully. How many tenured UP professors or high-salaried international NGO bureaucrats could do the same, I wondered.
In the 1992-1997 period, I moved to the more congested environment of Metro Manila, barely keeping in touch with comrades and friends in the region. But later my family and I resettled back here. This time, Ben and I worked more closely on a series of projects for the people's movement.
I remember long talks with him on preparing and editing articles for Pantatavalan (the CPA's theoretical journal), research-based articles on regional autonomy, and later, the immense work of resuming and sustaining Northern Dispatch and its mother institution, the NMIN. Ben and I also worked closely on the Radyo Sagada project.
I also remember him contributing greatly to the success of the Third Cordillera Land Congress. Specifically worth mentioning is his paper, Case Studies of Boundary Disputes in the Cordillera, for which he worked closely with other Cordillera elders (especially because by then he was himself turning into a highly respected elder). This paper and other Land Congress papers on tribal boundaries in the region greatly helped NMIN in its Northern Luzon IP mapping project, done jointly with CPA and RDC-Kaduami.
Those of us who sat down with Ben during the many interminable meetings would often find him pensive, thoughtful, and using measured words. But he could also be very talkative in unguarded moments. I found this very enjoyable, because his talkativeness was full of narrative and insight; it showed the many facets of his thinking and his interests.
Everyone here already knows about Ben's legendary patience and tactfulness even as he was firm about principle and policy. But this doesn't mean he never became angry or agitated. Certainly there were such situations. After all, Ben was known for dealing with all sorts of problematic situations and in confronting even the most hard-headed of people. But always, he had a knack for getting to the core, for resolving the essential point, while remaining soft-spoken and reasonable in a room full of anger and agitation.
Ben did not flinch from extremely complicated problems and controversy. Many of us who witnessed the handling of institutional problems, relating for example to MRDC, or Radyo Sagada, or CDPC, know this about Ben: he tackled controversies like he crossed the raging rivers of his youth—steady and determined, uncompromising but flexible, always careful of pitfalls but trudging stubbornly ahead.
And that is the lasting image of Ben that will remain in my mind: a perennially young man and his many river crossings. One with strong legs that brought him to the farthest villages, with a sure footing that served as anchor while trudging on steep trails and fording rapid mountain streams. One with strong shoulders and arms that could carry boxes of books and documents across these rivers, because they were needed for the collective work that needed to be done. One with with a face that seemed to be always cheerful and calm. And topping it all, one with a mind like a fire that burned brilliantly to the end, never burning out, but rather sharing its light and warmth even now that he is gone, through his many legacies.
He has now crossed one more river, to the world beyond, to the Skyworld.
To Doctora Beth and their children, to Ben's siblings and other relatives and kailian, again we extend our deepest condolences, and thank you for allowing him to devote countless working hours, months and years in serving the masses, and for supporting him throughout his incredible journey of struggles and victories with the people of this region, together with the broader Filipino people.
Mabuhay ka, Kasamang Benedict Solang: isang mabuting anak ng Kordilyera, isang dakilang aktibista ng Kaigorotan, isang bayani ng mamamayang Pilipino! Hindi ka namin makakalimutan!
January 30, 2018
Baguio City
Note by author: This is a slightly revised version of the eulogy piece I delivered earlier today at the memorial meeting held at the wake of Benedict Solang.#