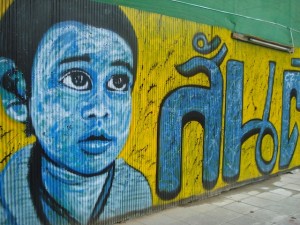 There's a bit of a gentle rant here, but not a big one.
When I was told that my trip to Bangkok would push through, actually I was a bit underwhelmed. This was because–apart from the colleagues we needed to meet there and the critical collaborative work we needed to accomplish, which were of course the main reasons for the trip–I couldn't think of any tourist feature of that ancient Siamese city along the Chao Phraya that made my innards pulsate with excitement.
Don't get me wrong. Bangkok is a great Asian city. A few quick glimpses via Google–or even by just casually flipping through the pages of a travel magazine tucked in front of your seat during the flight itself–would be enough for a traveller to realize that this city is no floozy. You can spend days, weeks, or even months if you and your pocket are up to it, flitting from one Bangkok destination to the next, and not run out of nice places to visit, dishes and delicacies to taste, and shoppers' delights to ogle.
A friend suggested a trip to the usual foodie haunts in the floating markets. Still another contact came up with a practical list of temples and night markets that are more easily reached from the hotel where we were staying. One colleague said, "Don't fail to visit Khaosan because it's the one place in Bangkok you don't wanna miss." But I was ambivalent and lukewarm on almost all suggestions. A little voice inside my head kept telling me that I could just as well go to Divisoria or Baclaran for nifty pasalubongs.
But there was one suggestion–a self-suggested one, actually–that slowly insinuated itself into my Saturday plans with Ava (who was my partner-in-crime that week). After all, I was a history freak, and had a particular fondness for historic sites. After verifying my targets with Google Earth, I agreed with her it would be great to go on a walking route that would lead us through the Royal Plaza, the Ananta Samakhom Throne Hall, a few nearby temples, the Democracy Monument, the Giant Swing, the October 14 Memorial, and the Thammasat University campus that featured prominently in both the October 1973 uprising and the October 1976 massacre.
So that Saturday morning, we grabbed a handy map at the front desk to trace our tentative route, and off we went to look for historic Bangkok.
Yeah, yeah, I know what you're thinking. You're going to say, "What a history oddball nerd you are." But that, my friends, was what we did all day–just walk from one temple and historical marker to the next through the old town, partaking of cheap street food along the way. We walked a total of 10 kilometers (according to my Google Earth ruler), not including the inner rounds we made through the temples.
We didn't reach the Wat Pho or the Grand Palace. But we did enjoy a great view of that area from Sanam Luang. I continued to look for the October 14 Memorial, thinking it to be inside or near the Thammasat University. It turned out we had already passed it while walking along Ratchadamnoen Klang. I also wasn't aware there was another marker, a smaller one commemorating the October 6, 1976 massacre inside the Thammasat campus.
Earlier that morning, we also saw a glimpse of the yellow-shirt demonstrations that made it to the evening TV news and the next morning's headlines. We tried to bargain with the police to allow us to cross their thick phalanx of shields and helmets so we could reach the Royal Plaza, but decided against it because the protestors were already arriving by the busload and filling the streets in throngs.
We capped the day with a hectic shopping blitz through Khaosan before getting caught in a thunderstorm. I bought my usual chimes for Mel and other pasalubongs for co-workers, while Ava collected 36 shoulder-patch-sized flags representing 36 different countries. (Curious about what she needed the flags for? Lol, ask her, not me. Or better yet, visit her travel blog, here.)
For me, the highlight of the day was not Khaosan (I wasn't impressed with it), not Loha Prasat (it was definitely awesome, though). It wasn't even the heart-stopping glimpse we had of the Wat Phra Kaew. Rather, my high point was sitting serenely on a wrought-iron park bench at Sanam Luang overlooking Thammasat, absorbing the grand flow of Thai history that was all around us, mindfully aware of the ghostly streets of the 1970s when students and workers spilled blood on these very grounds while generals played a dictators' deadly game of musical chairs.
As a visiting tourist, conference delegate, or just plain transient, I think I've stumbled onto a less-popular pathway in exploring a foreign city. Sure, I could come taste its fine foods, stroll its parks and gardens, inspect its palaces and temples, haggle for buyers' delights among its shops. I could relish all these on the fly, why not indeed?
But then again, each great city that we visit has an almost-predictable history of violence against its own people, which we must also understand. As we enjoy that which represents the civilized best of what a city has to offer, we must also seek out a few of its ghosts and skeletons. In the hoary past and in recent history, rulers seated in great cities brutalized their own own citizenry, who then fought back to gain at least some breathing space in their age-old struggle for emancipation and justice against tyranny. It would be such a wasted opportunity if we foreign visitors don't quaff some of this lesser-known (and often unsaid) dramatic history into our own guts and veins, and take home some of its lingering images.
Exploring thus this road less travelled, I treasured the memory of Kanatsiohareke and the Mohawk River in New York, more than Broadway and Times Square. In Beijing, pressed for time to catch my flight, I stood meditatively much longer before the Monument to the People's Heroes at the center of Tiananmen than I did among the shops of Silk Street. And if and when finally I step onto the soil of Paris, it will be ineluctably in the direction of the Communards' Wall at the Pere Lachaise cemetery, before I go anywhere else.
I know. It's not a tourist habit or philosophy I expect anyone else to strictly follow or even fully understand. You have your Bangkok, I have mine. But you'll probably agree that mine has its own inimitably great moments, such as I felt at Sanam Luang while watching pigeons noisily feed among its stately tamarind trees. It's a feeling that can never be elicited by a Khaosan tattoo or a Patummat-served pad thai. # Follow @junverzola