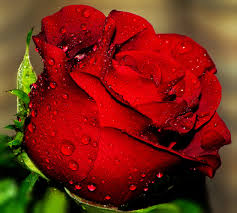 A rose for Andrea's daughter
I suppose baby souls fall back in line,
Reshaped and recast to wake up elsewhere.
So, dear Diona, as you wait in sky mists
For the next soulcast, listen to this:
Once upon a rainforest,
Giant trucks with ugly wheels
Vomited out a thousand army boots.
They dug up all: olden fairy paths,
Ancestors' graves and bones,
Sinewy veins of golden earth itself.
They trampled on lawan and nito alike,
Mother tree and just-sprouted seed
Such as you and million others.
But the shivering rainforest awakens again
Crying up a storm, as it always does.
Soon the rotten army boots are buried
In angry torrents of monsoon bullets.
Mother trees reclaim the land,
Their myriad seeds sprouting again.
Like soft morning rain, a shower
Of souls float back down to bring
Their long-grieving mothers
The twinkling smile of a red, red rose.
May 20, 2014