At twelve, I was a World War II veteran and D-Day survivor in Normandy. Vicariously of course, only vicariously.
Blame it, first, on the weekly episodes of Combat!, which at six I began to watch with my brothers and cousins at Auntie Maura's house along nearby South-9 (now Scout Fuentebella) Street, which had television. Blame it, second, on our family driver and most cheerful lifetime friend Manong Natoy, who brought us kids to watch the film The Longest Day, a cinematic retelling of the June 1944 Allied landings in Nazi-occupied France, when I was seven. Both the TV show and the movie made a huge impression on me.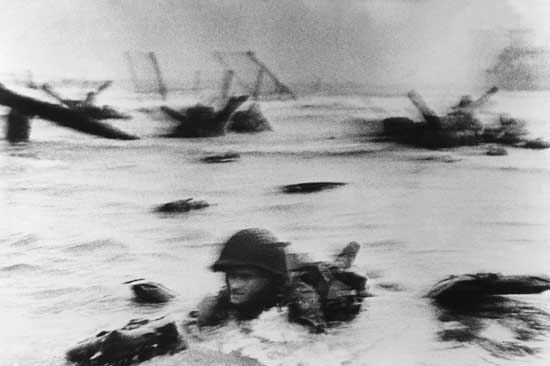 Blame it further, thirdly, on my male cousins who let me borrow their thick U.S. Army ROTC Manual and a technical U.S. Army manual on infantry weapons, which I read voraciously at nine or ten, opening up my mind to an immense range of vicarious war knowledge, from how the Greek phalanx fought, later replaced by much more organized Roman legions, how the rifle evolved from smoothbore, to how military maps are drawn to show infantry units, ORPs, AORs and MLRs, to how a gunshot wound results in shock and, if not treated on time, leads to demise. Complete with illustrations and spot colors, showing an appropriate red where wounds bleed into bandages.
Blame it on Manong Natoy again, fourthly, for having noticed this young ten-year-old boy's morbid obsession with war, and so decided to give me his precious copy of a two-volume Reader's Digest compilation of World War II accounts. From its pages, soldiers' and civilians' wartime lives and hardships (and deaths — many deaths, including Auschwitz dead, stiff and stacked high like logs — with accompanying photos) jumped at me, into my eyes and under my skin, playing in my mind, sometimes like daydreams, sometimes like nightmares.
Finally, blame it on my father, who watched Combat! with us kids. Sometimes he gave out commentaries like he was a war reporter (which he was in World War II, in a sense, embedded with USAFIP-NL guerrillas). At other times he shared his stories of the horrors and dilemmas of war as seen up close — Sagad's terrible killings, Bangued's destruction by "expedient" US bombardment, the battle of Tangadan, and the liberation of Tagudin.
All of that, I absorbed and digested, always replaying the battles and stories in my mind, often with toy soldiers and cardboard infantry units (appropriately marked with colored pens) on the rugged terrain of my crumpled blankets and pillows. We had no History Channel or DVD boxset of A Band of Brothers back in the day, but then that's why we 1960s war-freak kids were able to exercise our limitless imaginations. The smart ones among us filled in the gaps with details from books with colored plates of service uniforms and TOEs and insignias and battle maps.
By the time I stepped into high school, having been lucky to be admitted into one that gave us monthly stipends for books — our money didn't go to Cubao pinball machines and billiard tables, God forbid, no! LOL — I really did splurge a minor's fortune on books about war, especially on World War I and II. Also, I forced myself to read war-up-close novels like The Red Badge of Courage and All Quiet on the Western Front, collected LIFE magazine issues that had started to cover the Tet Offensive and other stories of Vietnam War carnage, stared at the endless photos of war dead and crumpled battle tanks, and watched war films whenever I could.
Most of all, I rediscovered The Longest Day — not the movie this time but the book by Cornelius Ryan — and immersed myself into that war drama with all the imagination and book knowledge I could muster. Later I also read Ryan's other works, A Bridge Too Far (about the battle to take the bridge at Remagen) and The Last Battle (about the final battle for Berlin), but always went back to The Longest Day. I must have re-read that book a dozen times, and still couldn't get enough of it.
I knew, and still remember, many of the side stories and imagery of The Longest Day that made it perhaps the greatest journalistic retelling of one of World War II's most gripping dramas: Eisenhower and his weather reports, Private Dutch Schultz's last crap game, Verlaine's couplets mobilizing the French armed partisans, the invading planes flashing the V sign, the hellish burning church of Ste. Marie Eglise, the heroics of the bangalore torpedo team at Omaha, the German officer with boots on the wrong feet, the desperate two-plane Luftwaffe sortie strafing the beaches, Rommel's utter dismay and Von Rundstedt's ultimate folly — oh, I could go on and on for hours.
Saving Private Ryan is another great retelling of the Normandy landings, which helps fill in the visual gaps in my mind and drive home a one-two-three visceral punch in my guts. But the movie pales in comparison to the book by Cornelius Ryan, with historical tapestry dating back to 1066 and authentic personal stories by soldiers and civilians alike woven into his master work.
Later, I would of course discover and delve into other aspects of World War II such as China's (and other Asian countries', including the Philippines' own) wars of resistance against Japan, many of which later led to wars of liberation all the way up to the Indochina wars of the 1950s-1970s. My collection of war books and magazines, and list of war movies and TV episodes, grew accordingly. Many of these books are now lost, but I'm rebuilding an online collection.
And so, as the world winds up its 70th anniversary commemoration of the Normandy landings, and 40 years after I first waded wide-eyed into its minefield beaches, dodging the deadly 88's (vicariously, of course), kindly allow this now-grey-haired boy to catch his breath and temper his radical politics for a minute, and pay tribute to an earlier generation of heroes.
I may have been a war freak and vicarious veteran by age 12, but I know when and where to get serious.
Let me now salute the hundreds of thousands of troops, armed partisans, and civilians who fought Fascism, on the Western front and more decisively on the Eastern front, those who lost lives and limbs and loved ones in that great and terrible mid-century unleashing. Let me exude hope that we, the next generations, will never lose the memories and lessons of that global conflict that started as an inter-imperialist war, turned into a great anti-fascist war, and finally into wars of national liberation.
Read and listen to history. And never forget. Its lessons echo through the ages. #Follow @junverzola