Consider this as a short cultural note about a barely documented habit among the Filipino workers, peasants, and other poor people who seasonally travel on shoestring budgets from city to hometown, or from provincial town centers back to their barrios. Typically, this habit is most expressed in the mass exodus that happens during Holy Week, All Saints-Souls Days, and Christmas-yearend holidays.
The idea is to bring pasalubongs (arrival gifts) to the folk back home. But since poor people must maximize their time and scrimp on travel expenses, the traditional solution was simply to prepare or buy those delicacies that are cheaper by the dozen, don't easily spoil, and can be conveniently eaten or nibbled along the way or later distributed to the awaiting kids: assorted kinds of kakanin (rice cakes and puddings) such as suman and puto; native leaf-wrapped tamales; bukayo, chicharon and kropek; and cheap pastries and sweet breads such as mamon, machacao, and galletas.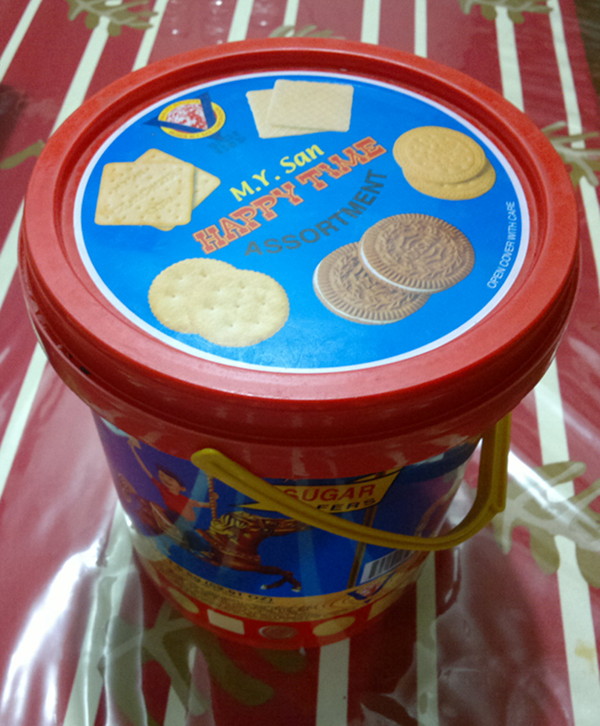 I think it is this last class of goodies, strongly influenced by our recent colonial past, that led enterprising bakeries (mostly Filipino-Chinese) to think of more practical packaging. Eventually, someone — perhaps a fan of Danish biscuit tins — innovated the use of pail-sized carrying cans, in gaudy Christmas red and green, that carried a wild assortment of biscuits, crackers, and cookies. Manufacturers like M.Y. San soon adopted the packaging — formerly in sturdy tin cans, now in sturdy plastic bins.
A Filipino middle-class family or a particularly successful worker, coming home to the province, would lug with them one or two such four-gallon cans. A lower-income family would bring home a smaller one- or two-gallon can of "assorteds." The advantages, of course, were many:
Buying by the gallon-can was cheaper than buying small packets.
The tight lids on cans kept in the biscuit flavors and crispiness longer, and kept out the ants and finger-pickin' small kids.
The goodies in the can were of wide assorted varieties, so that there was something for everyone.
Finally, after the can was emptied, it enjoyed a long second life in the kitchen (e.g. as a storage bin for rice and mung beans, for protection against mice), in the  bathroom (e.g. as a water pail), or in the yard (e.g. as plant pot or small compost pit).
So today and over the All-Saints and All-Souls weekend, when you see ordinary Pinoy folk clambering up the provincial buses or trooping to the town cemeteries with their nondescript bags, flowers and candles for the dead, umbrellas and collapsible seats, let's play this counting game:
How many of them are still carrying these ubiquitous and oh-so-precious assorted-biscuit cans? And how many, in turn, have forgotten this small but oh-so-Filipino aspect of the seasonal mass exodus, and have replaced it with more expensive accoutrements of the well-to-do enjoying their weekend escapade away from the grungy city?
And what about you? What working-class delicacy are you planning to buy this weekend, whether to munch on the bus or as pasalubong to Inang and Tatang? # Follow @junverzola