We were young, defiant, audacious, and in jail. But incarceration didn't really matter because we knew we had to prepare for the long struggle ahead. So we made the most of the time we had in prison. 
We traded endless stories about our experiences and people's struggles outside prison, and engaged in covert and fruitful political discussions. We read a lot of Marx, Lenin and Mao.
But that wasn't enough. At Ipil Rehab Center, which was a minimum-security facility in Fort Bonifacio under the AFP's Command for the Central Administration of Detainees (COMCAD), we were given some leeway to move around from morning roll call at 5 a.m. to evening reveille at 9 p.m. So we further maximized our time.
After roll call, we did the Army dozen (you know, the stork walk, the high jumper, the squat bender etc.).  Some detainees also introduced a few other routines from the Chinese People's Liberation Army, to which we gave nicknames like , "Help in production and defend the fields"  and "Kick the grenade away."
After these routine dawn drills, many of us young ones went further by jogging some 5-10 laps around the quadrangle while it was still dark and cool (making sure not to get too near the barbed-wire-topped perimeter fence or risk being shot).
After breakfast, we played team sports and those of us who were lithe enough showed off our impressive baras routines. All in all, therefore, many of us acquired obscenely delicious tans —not just because we had lots of sun, but because we wore short shorts (and for males, often went around shirtless in summer).
###
The detainees organized their own self-governance committees. We had a theater group, a visual arts group, a gardening group, and so on. Still, that wasn't enough. Having really, really lots of time on our hands, we learned various crafts. The visual arts group, for example, made decorative matchboxes and vases. (These will be for another blog piece.)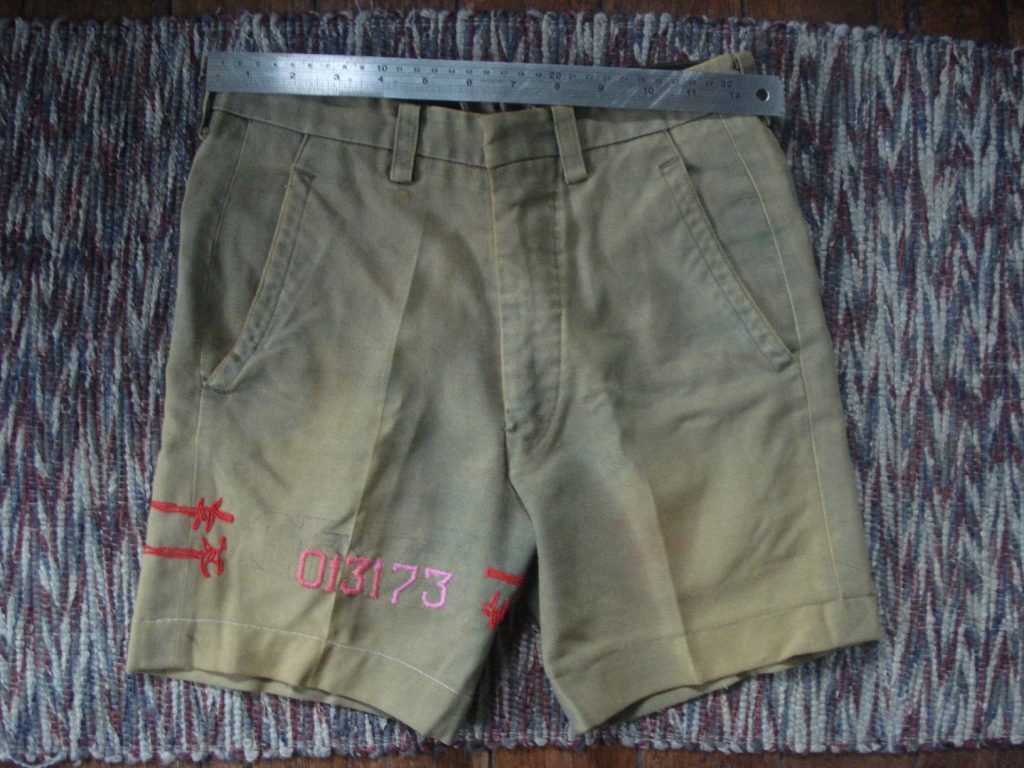 Many of us were also into embroidery. We joked about some lumpen jailmates who already had so many square inches of skin decorated with the usual tattoos but would go further  and decorate their clothes. ("Naburdahan na nga ang balat, buburdahan pa ang damit.")
But instead of gang trademarks or floral design and stuff, we embroidered our unofficial jail uniforms with self-assigned prison numbers (usually based on the date of arrest), plus tier upon tier of barbed wire.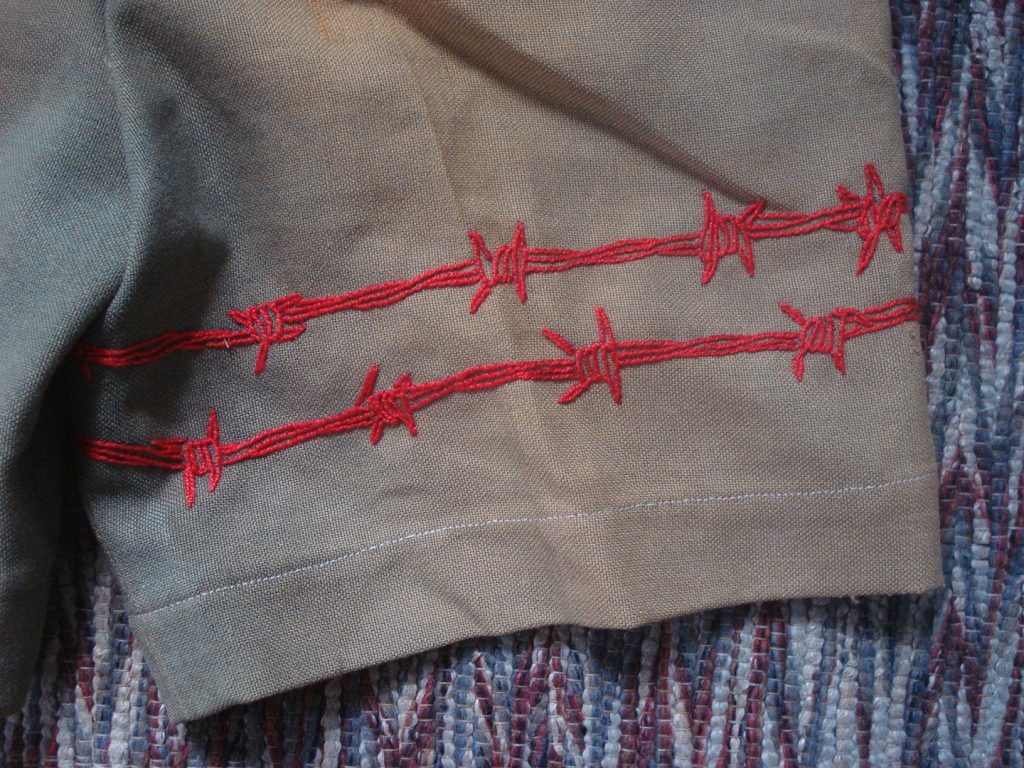 ###
A brief backgrounder on my prison shorts:
My father came from a Bangued (Abra) lineage of craftsmen, including violin- and guitar-makers, shoemakers, and tailors. When we were kids, it was a bit like a ritual passage when he brought us boys to his favorite tailor, who was also a relative, to get tape-measured and fitted. The tailor's name was Herminio Baleros, whose shop was just down the street.
Hence, when I started high school, most of my pants were custom-tailored. I sort of started to evolve into a finicky dresser, insisting to choose the textile cut myself and making sure the tailor got my design instructions down pat. This particular fabric is called a hopsack weave, one of my favorites.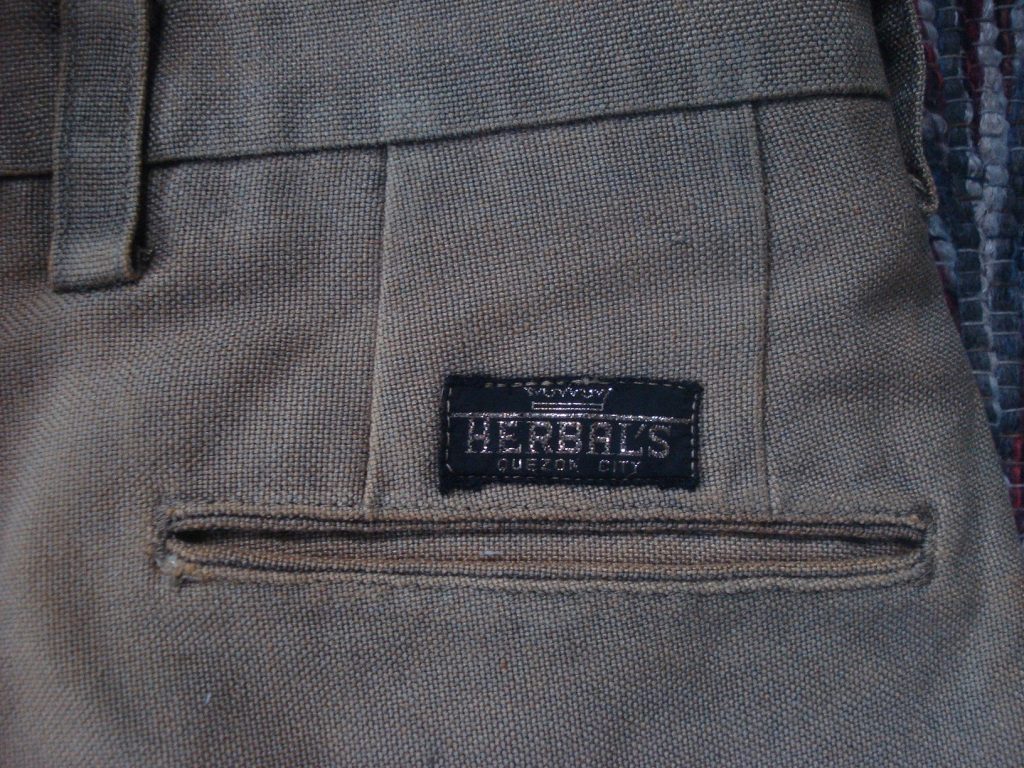 When I became an activist, my fashion sense changed into faded denims, protest T-shirts, and Vietnam G.I. military surplus jackets. This particular pair of pants was almost forgotten, languishing at the bottom of my cabinet.
When I landed in prison, and asked my mother for a pair of jogging shorts, she and her parsimonious Ilocano mindset had a ready solution. She quickly converted my favorite hopsack pair into what was to become my favorite jail getup.
Makes me remember the famous pun: "Life is shorts, so cut me some slacks." #