FRANCIS S. SONTILLANO, 1955-1970. He is the first and youngest martyr of the Philippine Science High School (killed at 15) in the long struggle against the US-Marcos fascist regime that soon shifted to open terrorist rule under martial law.
I was in that protest march, together with a sizeable PSHS student delegation with its own organizational streamer. I still remember some details: our chartered bus (not sure now whether it was JD or MD), full of PSHS students, proceeded directly from the PSHS quadrangle entrance at the new site all the way to Arrocerros in Manila. We all got down to assemble together with other groups. There was a short picket program in front of the Department of Education office. Then, en masse, rank after rank, the student protestors proceeded to march in a circuitous route, which eventually took us across the Pasig River via MacArthur Bridge and to our date with fate in FEATI.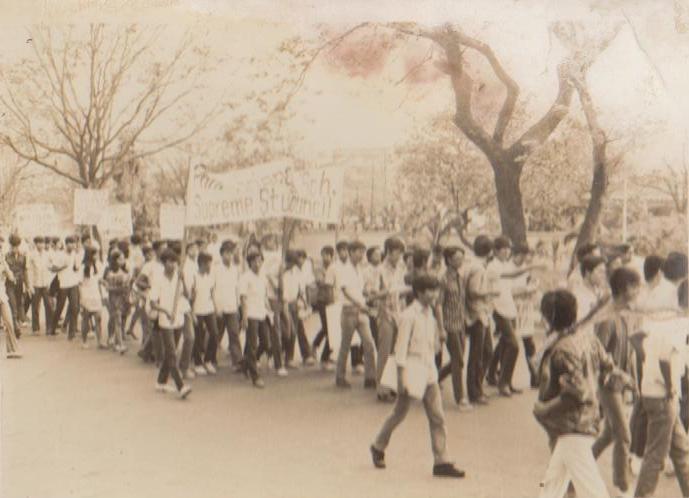 In the more detailed photo (see below), I was marching a rank behind Francis. But when we stopped by that building inside FEATI, the ranks mixed up. Most of us were in a light mood, cheering, singing and chanting for the students inside the building to come join us. So when we started to march again, I was maybe one or two ranks in front of Francis.
I didn't see how the explosion behind me looked like, but I still remember how it felt. The blast was like a thick plank of wood smashing itself onto my nape and back. The sound was so deafening, a loud buzz inside my head was all I could hear for the next hour or so. I remember we were all shouting while running, regrouping along Avenida Rizal (I remember Coco Bagadion, also bloodied and carrying the rolled-up PSHS-SSG pole and streamer), looking for missing companions, but I could barely hear or understand anything my comrades were saying. I was simply taking cue from how and where they moved.
My PSHS uniform, a white shirt, was splattered with blood and bits of brain and bone. I had kept that shirt for many years, wrapped in plastic at the bottom of an aparador in the old boy's room. But somehow it was lost in some unthinking cleanup, perhaps to gather used clothes for some disaster response.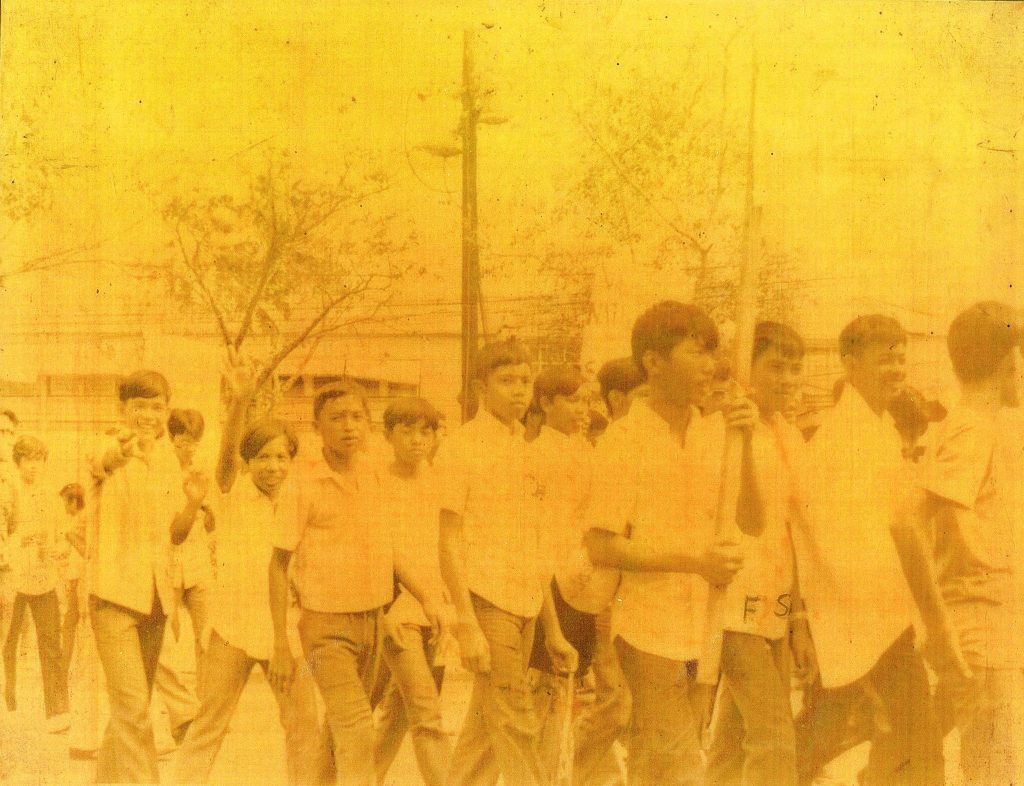 On November 30, 2017, veteran activists of that era, including Jose "Butch" Dalisay Jr. and Dante "Jun" Simbulan Jr. shared stories and insights with PSHS 7th, 8th and 9th graders together with some of their teachers and administrators. The young scholars were very interested in knowing more about the tightly intertwined threads of Philippine political and PSHS history.
Special guests were Francis' 95-year-old mother, his two siblings (a sister and a brother) and a niece. Many of those who attended the sharing and tree-planting activity at the PSHS main campus, including the Sontillano family, then proceeded to the nearby Bantayog ng mga Bayani annual ceremony.
There, later that afternoon, Francis' name was included together with 10 other new names in a long roster of martyrs and heroes of the people's struggle in the period 1965-1986.
Some PSHS 1972 members, in a quick huddle at the Bantayog ceremonies, also shared updates on efforts to include batchmate Rolando Cada in the next honor roll batch.
Rollie, who quickly turned from student activist in 1971 to fulltime community organizer in the nearby North Triangle urban poor communities, was later killed in August 1982 while fighting a defensive rear-guard action in the NPA guerrilla front straddling the Quezon-Bicol border, well-known back then as the QBZ.
Those who know some firsthand (or even secondhand) information about Rollie's life as an activist and later as NPA fighter can share or double-check their data and add their insights on the Pagpugay at Pahingalay site, which maintains tribute pages to PSHS heroes and martyrs. #