Since I was a child, I've often noticed jeepney drivers, conductors, and mechanics wearing one over their shoulders or keeping one handily tucked into their pants pocket. Even though our street corner was teeming with jeepneys all day long, we didn't use it at home. So I had always associated it with the hoi polloi, the Great Unwashed of the streets.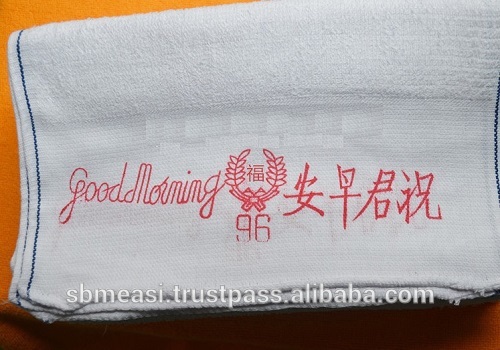 Then I became an activist. Driven by martial law repression, I went full-time into underground activism from 1976 onward, with Metro Manila as our regular AOR, plus some parts of Cavite and a strip of Bulacan as our "rear base," sort of. There I first met up-close the plebeian Good Morning Towel, aka GMT.
As a full-timer working with local organizers, we were always mobile, holding quick meet-ups in busy terminals and market carinderias, and sometimes, in the panciterias of downtown Manila or Cubao if we had money to spare. Then and there I realized the omnipresence of the GMT among the oppressed—teeming in Metro Manila streets, all along EDSA from the semi-proletarian back-alleys of Caloocan-Valenzuela to the proletarian dormitories of South Super Highway.
Once, I chanced upon a Black Nazarene procession in Quiapo and was mesmerized by the million-strong flow of a barefoot throng. For the first time in my life, I saw thousands of GMTs shooting back and forth like soft white darts from the margins of the procession to the center, then back to the margins. Smelling of sweat myself, I bought a GMT and started using it out of curiosity. Soon, I became convinced of its superiority and became a committed user.
###
The 100-percent-cotton Good Morning towel is practical in many ways. It's better than the bimpo (square-shaped face towel) because it's long enough to wrap around your head or run across your perspiring back, as tsupers and pahinantes do all the time. It's better than your standard bath towel, which is big enough to wrap around your body or waist, but too bulky to fit in a full-timer's overnight bag. The GMT weave doesn't have thick piles, but just enough fluff to absorb sweat and moisture and to wipe off grime. Because it is plain white and thinly fluffed, you know right off whether it's fresh or used. It is also easy to wash, rinse and dry.
This year marks my 40th year of acquaintance with this honorable icon. All this time, however, I never quite understood its origins.
Obviously it has Chinese roots with a colonial twist; the English words "Good morning" are imprinted on it together with the 安早君祝. But where, and who exactly could have come up with such a common-looking towel and then turn it into a popular, almost ubiquitous sui generis brand? Have you ever wondered what 安早君祝 meant? It's "An zao jun zhu" in Pinyin, but you probably won't hear anyone say it that way.
Kabsat Kandu tells me to GMG ("Google it, nitwit," in polite English), and that's what I do.
###
It turns out that Good Morning towels were already in use in the 1920s, at least in Singapore. According to The Straits Times:
"These iconic white cotton towels with Good Morning printed in red at the edge, were often seen draped over the shoulders of rickshaw pullers and labourers who helped build modern Singapore. These days, the towels are used in hair salons and are often seen on the arms of coffee shop waiters." (Source: http://media.straitstimes.com/50things/#image-13)
I suspect that the towel dates back further, to perhaps as early as the 1880s, after Singapore, Hong Kong and Macau became precious British pearls in the Far East. These trading ports soon began to attract an expatriate clientele of local lodging places, tea-and-noodle houses, as well as rickshaws and barbershops, where such handy towels must have been popular, to the point that some enterprising textile manufacturer began to mass-produce them and imprint the iconic brand on the product.
Throughout the 20th century, the GMT spread through Southeast Asia, especially among Chinese communities. I had first-hand experience of this in the noodle-houses of Miri, the laid-back capital of Sarawak (a Malaysian state in North Borneo). An elder Sarawak blogger says, in fact: "They were used by doctors, midwives, barbers, hairdressers, even schoolteachers. … One could see them everywhere, on the clothes lines in the backyards, on bamboo poles sticking out from the overhanging shophouses, at the back of motor launches, on lines coming from the coffee shops, on the shoulders of the wharf labourers and tied around the heads of rickshaw drivers."
She continues: "I remember the pedlars who used to sell buns and eggs at the Sibu wharf. They would cover their buns and eggs with one or two of these Good Morning Towels. … In coffee shops in Sibu, all the waiters would have a Good Morning towel placed neatly on their shoulders to wipe away any water mark or stain on the marble tables." (Source: http://sarawakiana.blogspot.com/2008/01/good-morning-towels.html)
If it was iconic for the late 19th-century European proletariat to be wearing a foundry apron and ironsmith's hammer, it became equally iconic for the East Asian sweatshop proletarians and semi-proletarians to be wearing GMTs around their heads or over their shoulders to wipe off sweat and grime—being bona fide members of the anakpawis ("children of sweat") quite in a literal sense.
###
In recent decades, the towel has become so popular that it is now sold in gift shops. GMTs are being produced and sold in Singapore, Hong Kong, and Chinese cities. They are sold very cheaply online by Alibaba.com and various local suppliers.
Low-budget tourists, for some reason, find the GMT impressively utilitarian yet still iconic, although it's not exactly the poor fashionista's alternative to an Emilio Pucci scarf. There have been instances of tourists buying them by the dozen to give away back home as souvenirs, further enhancing the GMT's growing worldwide reputation. Some expats now swear by the GMT—not the plebeian kind but the gentrified kind. There is even an expensive version, a bath towel with the words "Good Morning" embroidered in gold.
Now people are complaining of fake GMTs. (I always buy the cheap fake ones anyway, on point of principle—you know, the activist axiom about simple living, and because they're no less utilitarian.)
"Another proletarian icon bites the dust. Another Che Guevara is cannibalized by Benetton," my friend Kabsat Kandu remarks sarcastically.
"That may be so," I admit. I've actually wanted to blog about this phenomenon since 2014, when I got a couple of GMTs as my prize for winning a quiz during an office outing. But the local Soshal Network beat me to it, with their now-classic "10 Ways to Wear a Good Morning Towel" and "How to Spot a Fake Good Morning Towel".
There you have it. Now go get a dozen or two of these towels—quick, while supply lasts, be it fake or original—and wear one proudly at work. Like it or not, it's also a nice way to greet the proletarians and semi-proletarians of East Asia with a militant "Good morning, esteemed comrade!" 安早君祝. # Follow @junverzola