Consider the choice: either spend a weekend in glitzy Las Vegas, or a full week in an Indian village in upstate New York with only minimal amenities. Which one to choose?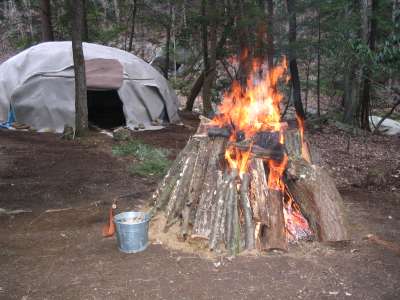 If you choose Las Vegas, here's ten bucks, good luck with the slot machines. If you choose upstate New York, this column is for you.
I was with the Cordillera People's Alliance when we were invited by American indigenous activists to attend the Land Is Life founding conference. It was decided that I go to represent the CPA . The conference, to be attended by IP representatives and rights advocates from the various continents, was to be held in Fonda in upstate New York.
"Fonda? Is that where Jane comes from?" Kabsat Kandu asks in his usual mock-ignorance mode. My own understanding is just a bit higher than my friend's, and I too wondered what made Fonda a good conference site.
###
I had long idolized the militant American Indian Movement that sprouted from the radicalized universities and impoverished reservations in the late 1960s. The AIM challenged the armed authority of the White Amerikkkan fascist state alongside its urban comrades-in-arms, the Black Panthers. Visions of Iroquois warriors in fatigues and ponytails, riding shotgun in rusty pickup trucks, danced inside my head.
It turns out that our destination, Kanatsioharieke ("Place of the Clean Pot") on the north bank of the Mohawk River, was no traditional Indian reservation. It was more like a proudly indigenist enclave with a sizeable base of mass support.
Kanatsioharieke was a cradle of ancient Iroquois culture, dating back to 12th-century sites that were later displaced by 17th-century European colonialists. Fast forward to the early 1990s. The nine chiefs of the Mohawk saw an opportunity to reclaim one of their sacred sites when the land around it—some 320 acres of field, forest and creeks—came up for auction. Tom Porter, a respected chief locally renowned as an educator and organizer, led the campaign to reclaim the land and eventually settle it with mixed (semi-traditional and semi-modern) features.
The reestablished Kanatsioharieke kept wide fields planted to native crops and vegetables, orchards, a community forest and water reservoir, pastures with a herd of cattle, a small stable of horses (which you could learn to ride Indian-style), a longhouse, sacred places for rituals and big gatherings, an arts and craft shop, and a roadside bed-and-breakfast place for visitors. It soon became a center for promoting Mohawk identity, language and history and those of the wider Six Nations of the Iroquois. (For details, see: http://www.mohawkcommunity.com/)
All in all, it was a place where an IP activist could opt to stay for months of work, study and play. Native Americans are very much like Southeast Asian IPs in physical appearance, and a Filipino living among them would not feel grossly out of place. In my short stay there, I had befriended a Native who was proudly 1/8th Filipino; he specialized in the powerful delivery of indigenous prayers that lifted everyone's spirits to great heights with their lilting poetry and gripping imagery. If I could learn the uggayam from Kalinga colleagues, I told myself, maybe I could learn a bit of Indian chanting from my new friend.
###
I won't bother you with the highlights of the conference. But what struck me was its daily rituals led by our hosts. The intense spirituality of the American indigenous movement is well-known, but I had been taking it too lightly until I actually sat down with Native activists.
We held a smudging ceremony every morning, before the day's discussions began and again at day's end. Smudging is basically a cleansing ritual with smoke from the Four Sacred Medicines—cedar, sage, braided sweetgrass and tobacco, smoldering in a bowl. For nearly an hour, we sit in a circle and pass around the bowl of herbs. One by one, we swirl the sacred smoke over our heads and shoulders and around our bodies to take away the negative energies.
Some of us had expected that, on its final days, the conference would devote extra-long hours to finalize the declaration, the program of action, and other organizational matters. Instead, we joined (and enjoyed!) more community ritual dances, singing and chanting. The drudgery of paperwork would be later attended to anyway, everyone agreed.
On the last day, we were urged to undergo the sweat lodge ceremony. (For a description of this ritual's details, see: http://www.barefootsworld.net/sweatlodge.html.) I think the "sweat" (as it is commonly called) is, after the sun dance, the most challenging Native American ritual because it is physically grueling and psychologically draining. Our hosts said it was not obligatory but asked us to join anyway. Many of us gamely said, Okay.
###
First, we had to fast—we skipped lunch and meditated in quietude. Towards late afternoon, we had to undress, with men encouraged to strip bare or use their native loincloth. I decide to use my Isnag-weave wanes. One by one, we enter the circular hut with our offerings, and sit down in a great circle, facing the red-hot stones hissing with steam in the central pit. It is pitch-black and overpoweringly stuffy inside, as if someone wrapped a thick blanket tightly around your face.
The sweat leader sprinkles water on the hot stones, producing more steam, and starts a long series of prayers, songs and chants accompanied by a native drum. Some start to feel dizzy and ask to leave. Even the act of leaving is ritualized. You cannot just rush out. You are supposed to say, Mitakuye oyasin—somewhat like saying "Pardon my leaving, all my relations." The plaintive chants are vaguely familiar, and I try to follow the undulating pattern with my own.
Because we are beginners, we only go through two rounds instead of the standard four-round sweat. Each round lasts about 30 minutes. But it is enough for the hypnotizing spell to take effect. After a while, you start to feel like disembodied spirits floating among the vapors, pulsing to the beat of the drum, weaving in and out of the sound ripples of the chant, hand in hand with all your ancestors and all your relations.
After the second round ends, we stagger out of the lodge, glistening with sweat in the setting sun and gasping for fresh air. We are advised to dunk ourselves with cold water from a nearby steel drum, or dive straight into the nearby river. I choose the latter.
The Mohawk River is quiet except for the rustling of reeds in the early evening breeze. It is late spring and the water is comfortably cool. A black water snake darts into view. It eyes me and my Isnag wanes. I eye it back. It is non-venomous. I close my eyes in the water, and feel at one with the world as I had never felt before.
Some of us are believers in the Great Spirit and in prayer to him. Some of us are not. But the Mohawk believe so anyway: the Great Spirit is our Father, the soft Earth is our Mother. They also say, we fight for the land that we shall join in time, together with all our relations. I agree with them.
It's good to revisit indigenous spirits once in a while. # Follow @junverzola