Describing Padi Solang could sound somewhat like the song that describes Maria von Trapp in the famous 1960s musical hit, The Sound of Music: "a flibbertigibbet, a will o'the wisp, a clown… how do you catch a cloud and pin it down?"
There are a few other parallels between Padi and Maria: their religious background, and their love of the hills "alive with the sound of music," for example. But these points are mostly superficial.  In more substantial matters, Padi Solang is sui generis and sans rival, full of elan and eclat and panache and all other superlative Latin and French terms I could think of.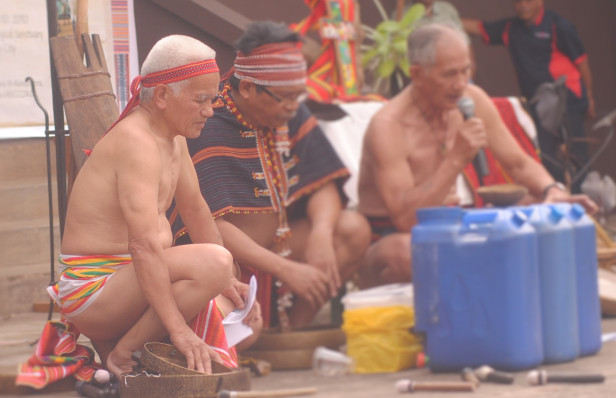 By this time, there should already be tons of tributes in his memory. I won't even try to make my own version of a full tribute. All I can do now is to read or listen to the memorials, and add my own snappy snippets, my own nimble memories, of the beloved leader-activist: a priest of the Philippine Episcopalian Church, a respected elder of western Mountain Province, a staunch advocate of indigenous peoples' rights and culture, and a pioneer and former chairperson of the Cordillera Peoples Alliance.
1. Padi is always on the go. He hates having to wait for the jeepney to arrive to pick up passengers. He'd rather start walking in the direction of his destination, whether it's five or 50 kilometers away. Once I asked him, "But Padi, what if the jeepney finally arrived, and you missed it because you were already on the road?" His response: "Oh, I'm sure they will have extra space for an old man when they see me. And so what if I missed it? At least I've made a head start, I might even get home earlier, and in any case, another jeepney will surely come along." Always being on the go, with utmost agility and optimism for an old man in his 70s, is a combination that's hard to beat.
2. Padi is always talking. And it's not senseless ramble. He is overflowing with ideas, experiences, and suggestions that he wants to share with others, especially those from the younger generation who appreciate his wit—and the wisdom behind the wit. Whoever has attended a Cordillera Day event in the 1990s and 2000s will never forget his "radio announcer's morning wake-up" mode, when at around 6 am, he takes over the sound system and calls on all the sleepyhead babfalos and babfalasangs (young men and women) to wake up, get out of their tents and billet houses, and join his early morning chat and calisthenics. You either listen to the white-haired man's messages echoing across the valley, appreciate him and take heed, or not. In any case, most young people respect him.
3. Padi is an advocate of indigenous culture, almost to a fault. Those who have ever seen or joined him leading a ballangbang dance, i-Aplay style (aka pattong), should realize that a Padi-led Igorot war dance is a life-changing experience if not a trigger for heart attack—for those who are in no shape for the whole-body aerobics, nay, acrobatics that it entails. When he sees how young folk perform an indigenous dance, often I see him shaking his head quietly. One time he muttered to me, "That is not how it's done, ay Apo. Isn't anyone teaching these kids how to properly do it?" I tried to explain to him about the nuances of popularization and raising of standards, which I think should apply to indigenous culture as well. To which, his constructive retort was, "Well, the CPA should reserve a special session or workshop in which old people like us can show how it's done (the indigenous dances), and the young ones should try to strictly follow." I've never had the chance to ask my CPA friends whether this suggestion has ever been tabled and considered.
4. Padi is irreverent, even for an Anglican priest. He could turn a funeral liturgy or eulogy into an occasion for joking and laughter, where his precious insights and experiences are laced with comments that, shall we say, are usually not heard when grieving for the dead. This time, it's the turn of others to shake their heads. But they tolerate him. After all, he's the Apo Padi who has probably wrestled with death and grief, joined countless grieving families and bayao rituals, more than any of us. I would think that he expected his own funeral service should be as light-hearted and irreverent as the ones he presided over.
5. Unknown to many, Padi is a writer who takes his craft seriously. Even though his style and output may not be popular or even familiar to an urban audience, we at Nordis Weekly (at least when I was editor) encouraged him to maintain an occasional column in verse, written in Kankanaey. One piece is entitled Malinis ay pagbiyagan, which he wrote in 2008. It is just one of many. Someone should collect his writings and disseminate them—if this has not been done yet.
6. Padi elicits a curious mix of awesome respect and friendly comradeship because of the way he stands, the way he talks, the way he treats others. He might be wearing a white collar of the priest, or the wanes of a Sagada elder, or the ordinary Cordillera traveler's nondescript shirt and denims on the dusty road. I often see him travel, not with the usual backpack, but a cheap sako bag (bought for P10 or P20 at some market stall for the use of Baguio shoppers) and his ubiquitous umbrella. Whatever he is wearing, Padi's white hair is the purest I've ever seen. It alone elicits respect.
7. Winding up this mini-memorial, I notice having wrote it in the present tense. That's because Rev. Eduardo Solang lives in all of us, whose lives he touched in some way.
Let all stand, therefore, and join a snappy Igorot war dance in his honor. Ayehaw! # Follow @junverzola