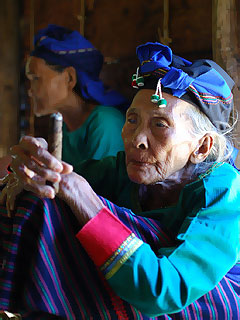 Writing and researching a blog post about Filipino children's native games has led me to jog my own memory about so much folklore that Lola Julita, my mother's mother, had taught us as kids.
A lot of it was stories about legends and myths of the Northern regions, about Angngalo, Lam-ang and Ines Kannoyan, about the alsados from upstream, about plain folk doing extraordinary things, sometimes funny, sometimes noble.
Regretfully, I have forgotten most, having listened to them while half-asleep since my Lola was my frequent baby-sitter and bedtime storyteller when I was a toddler.
Some of the Abra lore she shared were not really stories but riddles, sayings, native doggerel, and nonsensical verses—probably mnemonics that helped our ancestors memorize stuff while having fun at work.
Among these doggerel, what stands out in my mind are three pseudo-counting devices that even now I still remember almost completely. I tried to Google-search them on the Internet, but no single hit was returned. Maybe a more complete set is out there, lurking in some half-forgotten site or offline book or monograph. But I can't wait. I'll have to share now what I know, before they fade from memory. So here are the three counting lines:
1. Pinsa, pinduwa, bikalo, biyato, sigkang, duryang, kutukut, bangkot, karimbuwaya kulot!
2. Maysang, dawang, kulasing, dasing, kuddong, manong, sinamin, pablad, palting, mukat!
3. Maysagan, duwagan, tallogan, sapatit, patit … [need to fill up two-word gap here]… palawek, pawek, puwek! (See notes 1 and 2 for variations.)

I don't know if these mean anything. I have a moderate mastery of Abra Ilocano, but these doggerel feel like they are words that are merely strung out like trinkets without syntax, not real sentences with meaning.
Hopefully, others who received a similar legacy of oral literature from their parents or grandparents, and who still remember much of them, can add to this puny hoard of mine. Your pieces of doggerel or folk verse need not be in Ilocano, so long as they are native to the Philippines.
And, oh, don't add "Pen pen di sarapen," a traditional Philippine rhyme used mostly by kids to randomly pick who's "it" or who's to be the first player, among other things. That's because I've already got that rhyme covered (see note 3). But if you do have reliable sources on how and where this traditional Philippine doggerel originated, do drop me a comment line.
Quickly now, jog your noggins, people.
Notes:
1. In a Facebook post by Taga-Ilocos Nak (surely a pseudonym of someone from the Cagayan Valley region, judging by the "nak" dialectal variant), Janjan Peralta offered this doggerel counting version: isagan, dwagan, tatlogan, sangkwatit, patit, palimbag, limbag, palawek, pawek, wek.
2. In the same post, another commentor, Mathy Clemente dela Cruz, presented her own version that differed only slightly from Janjan's. Here's Mathy's version: isagan, duwagan, tatlogan, sapatit, kwatit, barabag, timpag, palawek, pawek, kwek.
3. Pen pen di sarapen goes like this: Pen pen di sarapen, kutsilyo di almasen, how how di karabaw, batuten. Sipit namamalipit, gintong pilak namumulaklak sa tabi ng dagat! Usually, that facilitates a 33-item count, unlike the three Ilocano rhymes I mentioned, which count to 10.