My ex-girlfriend M. and I started on the opposite side of the foodie fence when we began what others call "dating". She was an exacting gourmet, and I was a slob. But we settled on a happy compromise apart from standard, home-cooked native Pinoy: we both liked Chinese. We made the rounds of cheap Chinatown restaurants in the sidestreets of Binondo-San Nicolas, Sta. Cruz and Quiapo, where to be a gourmet is to eat heartily with soupbowl slurps, chopstick ninja, endless pots of tea, sometimes a final steaming towelette. Plus take-home hopia or siopao.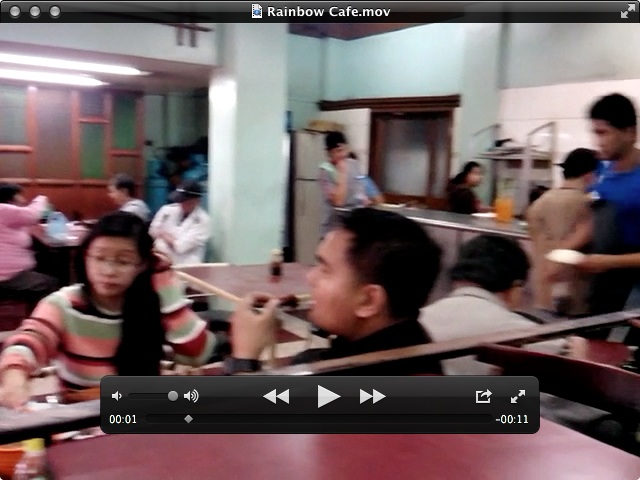 Like many other denizens of the metropolis in the early 1980s, and as a new couple adjusting to each other's tastes, we also liked Max's, Little Quiapo, Savory, Moderna, Ma Mon Luk and all that traditional stuff. We partook of them all occasionally, when we had money to spare. But we soon settled into regular budget haunts — many of them tiny holes in the wall or half-forgotten sleepy noodle houses a only a few of our acquaintances knew — where the waiters knew our tastes like Mama's favorite Sunday lunch fare.
If you've been to Ramon Lee in Quiapo and Canada Cafe in Ongpin (are they still open?), you'll know what I mean. Like I said, M. is proud of her cooking, and didn't shirk from pointing out the merits and demerits of each dish. I, on the other hand, would grin and nod contentedly at the waiters, even burp and tap my full stomach in appreciation.
Around early 1984, Fate nudged us to discover, in one of the sleaziest quarters of the city where we struck deep roots, a hidden jewel of an eatery. (I won't say which city. Those of you who know: Keep quiet!) At first that jewel was just our 3rd or 2nd choice — our first love having been the quaint restaurant of a quaint village inn, followed by a branch of Master Hopia somewhere in the city's university belt.
As a couple, or individually and with friends and colleagues, we discovered and tried out other eating places in the central business district. But they were either too glitzy-expensive for our proudly plebeian pockets or too sleazy for our even prouder pedestrian tastes. On the other hand, our new jewel had a certain ambience that deeply appealed to us. We became its hopeless habitués.
It wasn't just the superb Chinese food that drew us in, or the Filipino pastries sold over the bakery counter in one corner. It wasn't even the curt but courteous service typical of small cafés owned and operated by Chinese-Filipino families. It was the community of regulars, who were plebeians like us and had no bourgeois pretensions to keep. Like us, they came in with travel packs or bulky market bags or schoolbags or just their own distracted selves in daily street clothes. They look not so much for fine dining, music and celebrity-watching, but for a place to rest one's tired feet, to feed one's hungry gut, and perhaps to meet other friends with similar pedestrian tastes.
This famous city has its night life attractions favored by moneyed tourists and local elite alike. Some of its fine restaurants, cafes, night bars and clubs rank high if not world-class in offering a unique ambience of colonial history and cosmopolitanism. (I won't mention them.) There's also the typical food mills churning out commercial versions of Chinese. (I will mention one: Chow King).
That's all right if you're into that sort of thing, I guess. M. and I have been to a few of them, for business or with guests mostly. But we will forever be loyal clients of our own small gems because we share their history. Endless streams of personal memories run through their ancient formica tables and counters, clinking sounds of plates and saucers, the easy chatter of families eating together, and familiar waiters' faces here and there.
Many will swear by Good Taste. Others will fiercely go for Jack's or Luisa's. Still others have started grieving for the bygone glories of Sunshine Lunch or Dainty or Star Café. The faded Kathy's seem destined to suffer the same fate. Others will continue to drag me to the absolutely proletarian Slaughterhouse. But me and my wife, we've already made a decision long ago: It's Rainbow Café forever.
Here's a short video clip I made that shows a thin slice of that ambience: Rainbow Cafe January 2014.
For those of you who can find out exactly where Rainbow Cafe is (longitude and latitude coords, please), then we owe you a hearty dish of pancit miki-bihon, beef-tofu toppings over rice, the beverage of your choice, and a nice dessert of ube cake.#Follow @junverzola