Ours has been an inland family for as long as I can remember. But fate — or the objective conditions that we lived in, if you will — would time and again lead me to the edge of the sea, to the beaches and beyond.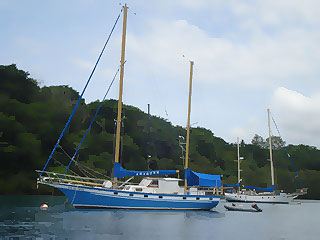 Both my parents were born and raised in Abra, a landlocked province. Apart from the great river, which had its own sandy banks strewn with great boulders that approximated the seaside, the nearest encounter they probably had with the sea was when they passed the Ilocos coast on their way to and from Manila to pursue their studies.
Later, they raised a family (namely, us) in a Manila suburban satellite city that was some distance from the sea. But they must have been attracted to the sea so much — not an unusual thing for Filipinos, living in an archipelagic country — that when we were young children, they often brought us on weekends to the Luneta seafront or to Baclaran's beaches. These were then so clean and windswept, that a whole day's immersion in seawater and salty spray breeze must have been enough to restore one's energies sapped by urban life.
Still years later, after release from martial law detention, I would inveigle my parents — now feeling the onset of old age — to resume their Luneta stroll every weekend. I joined their seaside weekend dates, which, not coincidentally, allowed me a free ride to work at the PAP artists' print shop in nearby Ermita where I was learning the printmaker's ropes.
Meanwhile, my parents would buy and develop a property in Tanza, Cavite that was not really beachfront, but was just a short walking distance to the Starfish Resort. The sea was visible and so inviting from the western window overlooking the ricefields, that I often felt it was such a waste not to spend at least a few hours on the beach every day whenever we visited.
From the mid-1970s to the early 1980s, I would often hop on the bus and go there on my own, or with friends and colleagues in the anti-dictatorship underground movement. I kept a mini-library and a portable typewriter there, and spent days reading, writing, getting to know the neighborhood of farmers and fisherfolk, swimming in the sea, observing littoral life behavior up close, or just lolling around on the beach.
At the same time, for reasons that I'll explain in a later blog, my colleagues and I became very familiar with the other beaches of Cavite, from the dirty suburban beaches of Bacoor and Cavite City all the way down to the still-bucolic beaches of Naic and Maragondon. We all made sure we spent enough hours swimming in them to relax and recharge. A shoulder injury from a motorbike accident turned me into a somewhat weak swimmer, but it didn't matter. I swam fairly decent distances, and became good friends with the sea anyway.
From the mid-1980s onwards, I became more intimately familiar with the mountains of Baguio-Benguet and had only limited forays to the nearby coasts of La Union and Pangasinan. But each seaside visit, each occasional boat ride, in fact drew me closer and closer to the sea.
Even my several lakeside visits — to Laguna lake, Taal lake, and Lanao lake, not to mention a lake or two in some foreign country — just made my longing for the sea that much more aching and persistent.
Why am I saying all these? Because in a recent boat trip and a few days' stay at a beach resort in the world-famous Puerto Galera bay area, all the pieces of the lifetime puzzle gradually and subtly eased themselves into my mind. I am destined to live most of my second half-century close to the sea.
Mind you, I'm no idealist romantic. In fact, I'm a hard-nosed realist who could be so punishing on himself. I can live anywhere in the world, learn to cope, and make the most of what I'm given with to do the work I've set myself a lifetime to accomplish. I can live, have lived, in a hidden village in the vast fastness of unnamed mountains. I can live, have lived, incognito in the nondescript sprawl of working-class districts. I can live, have lived, in an elegant colonial city and germ-free academic campus that frowns on noisy rebellious acts. I could probably survive in a desert, steppe, or tundra environment too, if had enough chance to immerse myself among people living in them.
If I'm destined to live the rest of my life in any of these settings, then so be it. I'd be happy so long as I'm allowed to do my work. But my mind tells me it would be beaches and boats for much of my next half-century.
You'd have to exert a great deal of effort to convince me otherwise.