"Freedom of the press is guaranteed only to those who own one."
That quote might be a startling, almost cynical take on the meaning of press freedom. But it was a respected American journalist, A.J. Liebling, who coined the now-famous aphorism. The terse statement was supposed to emphasize the harsh realities of capitalist ownership behind the noble expectation that journalists freely exercise their right, nay, fulfill their duty, to always provide the public with honest information and informed opinion.
In any case, little did Filipinos realize just how painfully that saying would apply to them on September 23, 1972. On that fateful Saturday morning, we all woke up to find no newspapers delivered to our doorsteps or sold on the sidewalks. We twiddled our radio sets (in my case, set just right beside my pillow, the better to hear the early morning news), asking with great puzzlement why they only emitted static noise on that morning.
Later in the day, we would know the reason for the total news blackout. Throughout the previous night, the big media presses and major radio-TV stations had been locked up, put under heavy armed guard, and later placed under new management controlled by Marcos and his martial law coterie.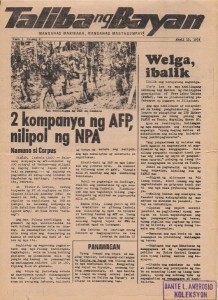 Government-controlled print and broadcast outlets, such as the infamous Daily Express broadsheet and RPN-9 were allowed to continue. These Marcos mouthpieces enjoyed near-absolute media monopoly, spewing out the official propaganda line of the dictatorship while censoring the rest of the news. For most Filipinos, that was the first taste of martial law on its very first day: the lack of a free press.
A tale of mimeo machines
But I did say near-absolute, not absolute, media monopoly. That's because outlawed national-democratic organizations, blacklisted journalists, and political dissidents of all kinds, including the growing forces of the Communist Party, were obliged to take the press into their own hands—quite literally. Once Proclamation 1081 was announced, and despite Marcos' threats to arrest anyone caught with "subversive documents," people from all walks of life everywhere throughout the country followed Liebling's rule and quickly got hold of printing equipment of all kinds.
Mimeograph machines were the activists' favorite since they were light enough to be carried by one or two people, loaded into the trunk of a car, operated quietly inside a room or garage, and quickly relocated as the need arose. But heavier presses were also valued—from hand-operated Minervas to baby offsets. In the hands of people who actively resisted martial law, these presses turned into powerful weapons.
At this point, I have a disclosure to make: Back then, I was a member of the radical youth group Kabataang Makabayan, a college freshman working as volunteer staff in its regional office for Metro Manila.
Some days before martial law was declared and amid rumors of an AFP-led Oplan Sagittarius, we already knew a big nationwide crackdown was imminent since the military was already raiding a few community headquarters and seizing boxfuls of books, documents and equipment. We had to pull out from our offices as much valuable stuff as we could. A mimeo machine was placed in my care and was quickly spirited out of the KM regional office, together with reams of paper and tubes of mimeo ink, and relocated into the underground network of houses and contacts that we had been secretly setting up in the previous months precisely for this kind of situation.
Thus, when government troops raided the various national and regional offices of mass organizations on September 22, we were ready to operate our underground press from the invisible nooks and crannies of the metropolis, and thus more effectively call on the people to resist the US-backed Marcos dictatorship by all means necessary.
During the first day of martial law itself, I recall, I was operating the mimeo machine from the "relative safety" of our family garage. ("Relative safety"—what an unintended but funny double-meaning!) Later, when things got hot, we moved the machine elsewhere. Still later, we would operate another mimeo machine secretly ensconced inside the stockroom of a gasoline station along Quezon Avenue, which my mother was then managing.
Underground newspapers as channels of resistance
Pretty much the same pattern of organized retreat to underground channels of resistance was conducted throughout the country during those early days (and nights) of martial law by most mass organizations and opposition groups. And one of the most important focuses of anti-dictatorship resistance was in putting up underground publications.
For leaders of mass organizations outlawed by martial law, one very effective way to keep in touch with their mass membership and sympathizer base was through underground publications—one-page leaflets, four-page or eight-page newsletters, all mimeographed.
Small editorial and productions staffs worked in tightly-knit teams to write and edit articles, prepare layout dummies by hand (and even right-justify the columns of text by hand), use typewriters and stylus pens to cut stencils, and take turns running the mimeo machines and collating and binding the finished copies. When no mimeo machine was available, production teams rigged up portable silkscreen devices (the famous "V-type") and manually squeegee'd mimeo ink through stenciled screen straight to paper.
The results of this virtually handicraft-level press industry operating underground through the early martial law years were impressive. Taliba ng Bayan persisted for many years as a national (later Metro Manila-wide) underground newspaper, which came out in Tagalog-Pilipino every two weeks. Liberation came out as the newspaper of the National Democratic Front, in addition to the CPP's Ang Bayan that was already secretly circulating among activists even before martial law. A cultural magazine named Ulos even boasted of multi-colored covers using silkscreen techniques. There was Balita ng Malayang Pilipinas, the underground movement's news service.
Then there were regional newsletters, coming out monthly, or less frequently when their underground networks were disrupted. Dangadang was a regional paper for Ilocos-Cordillera-Pangasinan, Himagsik for Central Luzon, Kalatas for Southern Tagalog, and many others for the Visayan and Mindanao regions and for different sectors.
Thus, throughout those first few critical years, the forces that resisted martial law, in Metro Manila and in other regions from Cagayan Valley to Davao, kept a high morale and clear direction of work greatly assisted by these underground publications.
Heroic role of underground media remains mostly untold
The underground press was so important to the anti-dictatorship resistance, that activist supporters took great pains and risked great dangers to smuggle out boxes of freshly-printed copies from the various "production houses" and to transport and deliver them to "drop houses." Here other activist networks picked them up, carefully divided them into smaller allotments, wrapped and camouflaged in various creative ways, and smuggled them into schools, factories, offices, and communities for distribution to people hungry for real news.
There were many cases of activists being arrested simply for "possession of subversive materials"—usually copies of underground publications—and then tortured to force them to divulge the network through which the publication was published and distributed, and ultimately to dismantle that network and capture its leaders. Some of these activists disappeared soon after arrest, never to be seen again and presumed "salvaged" (secretly executed) by the fascist intelligence agents of Marcos.
The first wave of legal alternative media (or "mosquito press" as the journalists affectionately called them) that came later, from 1975 onwards, enjoyed better print quality and wider circulation, and persisted despite facing fascist harassment because the public hungered for them. Many of these legal media owed much to the pioneering efforts of the earlier underground publications. Indeed, numerous stalwarts of the anti-dictatorship media that proliferated after 1981, when martial law was formally lifted, could trace their roots to these early and now barely-recalled resistance publications.
Many of those underground media practitioners who survived the Marcos era have gone on to play other roles for the CPP-NPA-NDF, while others have returned to the legal arena, or reinvented themselves into other professions, or are now retired; some have passed away. It is somewhat odd, if not ironic, that they who pioneered the anti-dictatorship media from the very first days of martial law could not, even now, for various reasons, tell their full stories.
We continue to await their half-divulged accounts about that watershed period in our country's history. Their experiences could serve as a precious legacy to younger generations of Filipino journalists, by showing how it was to lay your life down on the line, in perhaps one of the fullest possible examples of exercising media rights.
Freedom of the press is guaranteed only to those who own one, Liebling said. That may be true in a sense. In the case of the martial-law generation of activists and progressive journalists, however, we exercised that freedom by building up our own press from scratch when there was none—even if it meant using only a portable typewriter, mimeo stencil, V-type printing rig, and an unquenchable thirst for press freedom, people's rights and social justice.#