Author's note: This was first published on 18 May 2003 under my Pathless Travels column published by Northern Dispatch (Nordis) Weekly. I'm reposting it here in three parts, with some revisions to update my own understanding of the issue, and to make it more timely. This is Part 2. Read Part 1 here.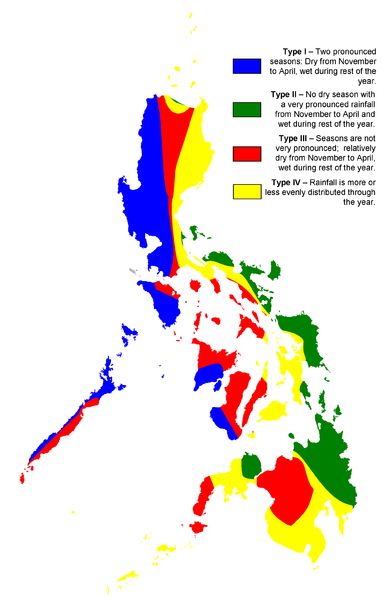 Since the 1990s, I've kept some reference  files and notes on Philippine climate as part of my general interest in geography and environment. I found two files particularly useful in summarizing the main types of climates in the country.
One describes the four climate types, and lists down the provinces (or parts of provinces) covered by each type. I lifted this file from a popular Philippine almanac, which in turn cites as its source a popular Bureau of Plant Industry crop calendar for various parts of the country.
The other is a Philippine climate map that I bought for 20 pesos from an ordinary bookstore. [Take note that this was in the mid-1990s, when DOST, although it was in the frontlines of building the local corridors of cyberspace, didn't as yet have much of its PAGASA resources online.] Continue reading "A myth called Pinoy summer (2)"