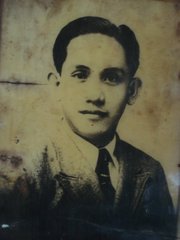 He came from an industrious family of craftsmen, tailors and musicians that made and sold men's suits, musical instruments and other crafted goods. His father died young and his mother went to live with another man, leaving him and his brother in the care of bachelor uncles and spinster aunts.
[Quick clarification, which I'm inserting here after a first cousin, Dr. Eufemio Verzola of Festus, MO pointed it out: My father's mother, whom we all fondly called Lola Uban, returned to care for her sons and daughter after a short while. She was a loving mother or mother-in-law and doting Lola to all of us up to the end of her days.]
Gifted with native intelligence, fair mestizo looks, and a quaintly provincial sense of humor, my father struggled with limited funds through college at the prestigious University of the Philippines in Los Baños. He excelled in math and literature, but had to settle for a two-year forest ranger course.
Old photos show him as a slim and debonair lad in khakis, with combed-back hair and later a pencil-thin mustache in the popular style at that time. When I was a kid, I would watch him trim and preen his roguish mustache and pomade his shiny black hair before a mirror, which sometimes took him a quarter-hour to do. I think he vaguely styled himself after Clark Gable, although for some reason, his likeness reminded me more of Xavier Cugat.
Later, he became chronically ill because of malaria and weak lungs that he contracted as a forest ranger and later debilitated him as a guerrilla reporter in the last months of World War II. He would regale us kids with stories about the Allied drive to liberate the Tagudin-San Fernando strip in the Ilocos, and how he, stricken with blackwater malaria, saw his extracted blood run pale, "almost white," when a U.S. Army medic finally got around to treat him.
Despite his physical limitations and urbanized work after the war, when he shifted from being a forest ranger to serving as a government auditor, he longed for the big river of Abra, its galleries of bamboo groves and fallow fields where horses grazed, and the Mount Casamata of his youth. He would later share this love with his children.
In his spare time, he often worked with wood, bamboo, rattan, and twine craft. I remember him repairing hand-woven rattan furniture and fishnets (he even hand-made a net for our pingpong table), and teaching me how to roll my own twine. I remember him teaching me, at an early age, the scientific names of forest trees and useful plants. I remember him preparing herbal remedies to help with his intermittent cough when it wasn't yet a mainstream fad. I remember him instructing me to identify a plant with my eyes closed, simply by feeling the leaf's texture and by smelling its distinct aroma when crushed between my fingers.
But it was his quiet love of music and his musical skills, which were barely known outside his immediate family, that I inevitably recall with affection. Maybe this was because he was shy and unassuming, to the point of reticence. He didn't have his own violin or a guitar (although he was surrounded by these instruments in his youth), so it was only when he could borrow someone else's instrument, or later find his place in front of the piano, that he could indulge his occasional playing. His singing voice was not very impressive, but it didn't matter. He sang boisterously anyway.
When he met and married the woman of his dreams, his love for music must have found redoubled inspiration and expression. That's because his wife was an instructor in music, dance and gymnastics. She had a fine musical ear and an excellent singing voice. Later, between her many business and church activities, she found time to organize and conduct an all-female rondalla for the Catholic Women's League, which included our sister and cousin. Occasionally, they would practice at home on weekend afternoons. We boys would always be excited to help in serving them snacks. It gave us a chance to get an extra share of sandwiches and ice-cold pineapple juice, and in my case, to raise a deafening ruckus on the drums and cymbals.
By then, he had become a minor official at the Government Auditing Office, and didn't have time to mingle with the ladies of the CWL rondalla. In fact, he grew somewhat more reticent, even morose and feeling taken for granted, as more and more visitors flitted in and out of the house. But in rare and unguarded moments, he could sing and laugh with such mirth at family gatherings, that one would think he was a heavy drinker (like a few of his uncles and male cousins) – but the truth is, I never saw him touch hard liquor and get stone-drunk.
One of their earliest and fondest appliances, as a young married couple, was a mono sound system (called hi-fi back then) that my father had someone assemble by hand. It was housed in an armoire-type divider, together with shelves for record racks, made of fine lacquered narra hardwood. This sound system would be considered ancient junk now, but in its day it was awesome, from the hand-made turntable platform and tube amplifier, down to the separate custom-made cabinet that housed the main speaker and woofer.
Thus gradually accumulated a wide collection of modern vinyl record albums, ranging from classical, traditional Spanish and Latin music, down to 1930s big bands and 1950s crooners, and later, 1960s pop groups and musicals. They taught their children how to handle the vinyl discs with infinite care to avoid scratches, from the exact routine of pulling the record out from the case, to the exquisitely fine technique of lowering the needle into the groove as the shiny-black disc spun on the turntable. (Later, my older brother would have the old tuner-amplifier replaced with a Kenwood stereo tuner-amp so everyone could enjoy the new FM stereo music stations and stereo albums.)
Meanwhile, the two of them stubbornly resisted the pressure from us kids to buy a TV set until the early 1970s. Thus, music records, radio soaps and variety programs, and sometimes ourselves as live performers, long served as the family's regular post-dinner fare.
I remember the old sala, where there was a separate switch for dim lights along the ceiling's edge. I might have recalled wrong, but as a very young child I have recollections of the two of them playing records together, dancing waltzes and Glenn Miller band pieces in the living room, bathed only by soft lights. Both of them loved the song "Moonriver," which rubbed off on us kids. I don't know the reason why it appealed to them – maybe because it reminded them of an earlier time, in their hometowns along the big river where they met and fell in love. I really can't say. But quite a few times, while the music was playing, I saw her cry and he was consoling her, but I never fully understood the reasons why. I guess I was too young to know.
One decorative piece that I never forgot was a Chinese-style painting that depicted a magical night of full moon and trees and a cottage reflected on a river, signed with calligraphy. It hung on the living room wall, and later on their bedroom wall – an apt echo of one of their favorite songs. I never tired of gazing at that painting. It now hangs on my own bedroom wall – a constant reminder of that sweet 1960s song that for most others would elicit images of New York's glamorous streets and Audrey Hepburn with the pixie eyes, but for me would remain inseparable from the memory of two parents from the river valley, and lovely evenings at home filled with music.
As a six-year-old kid, I remember regularly pulling up a chair to clamber up along the upper shelves of the armoire to fire up the amp and reach for the albums I wanted to play. I loved playing Spanish pasa-dobles and waltzes on the turntable. They evoked the fiestas and circuses we enjoyed as children. Sometimes I played 45?s on 33 speed, or LP's on 45 or 78 speed, just for comical kicks. I wore out some fine vinyls that way, to my parents' dismay.
The one album I never tired of playing, and to which I can still hum along for long stretches up to now, was "Scheherazade" by Rimsky-Korsakov. I remember it was one of their favorite night-listening pieces, and became mine too. I think they gave the album to Uncle Sam Bernal and his wife Aunt Irene, whose house in Baguio we often visited during summers there. I still play old vinyl at times, on another turntable.
I realize now, among other things, that I strongly inherited my father's love of nature and music in his distinctive ways. I also seem to have inherited his combination of quiet reticence and acerbic humor which, regrettably, my mother didn't seem to appreciate in both of us.
I see now that, without intending it, I also inherited his mustache – and expanded it into a goatee. During those intervening years, his hair and mustache turned pure white. Mine are showing signs of going the same route.
This prodigal son always loved to debate with him on religion, culture and politics, until both of us snorted with fire and fury, but at the same found grudging admiration for each other. My two sons are doing the same to me, following the same pattern, unwittingly but with a vengeance.
I also inherited his full name. This often gave me inexplicable embarrassment as a schoolboy, when a few kids made fun of me because of my strange-sounding name that sounded like that of an Italian priest and a Polish soldier-adventurer who settled down along the Po River Valley (which, according to an Italian researcher who shared it with me, was where the first Verzolas originated). In my years in the anti-Marcos dictatorship underground, living under assumed names, there were times when I almost forgot how to sign my real name and what it sounded like. Today, I stand tall when I'm called by it.
I recall all of this, as I remember him now. Thus I pay my respects to his beloved memory and proud ancestry, offering a copita of rice wine so that son can drink a toast with his father tonight, in spirit.
Happy birthday, Daddy. May your spirit live long and prosper. # Follow @junverzola
(Note: I first wrote this for an anonymous blog in April 2007. Edited with minor changes and additions, May 5, 2011. Edited some more with minor changes and additions, May 5, 2013, incidentally on his 100th birthday. Additional clarification about my Lola added on June 16, 2013, which everyone else says is Father's Day.)