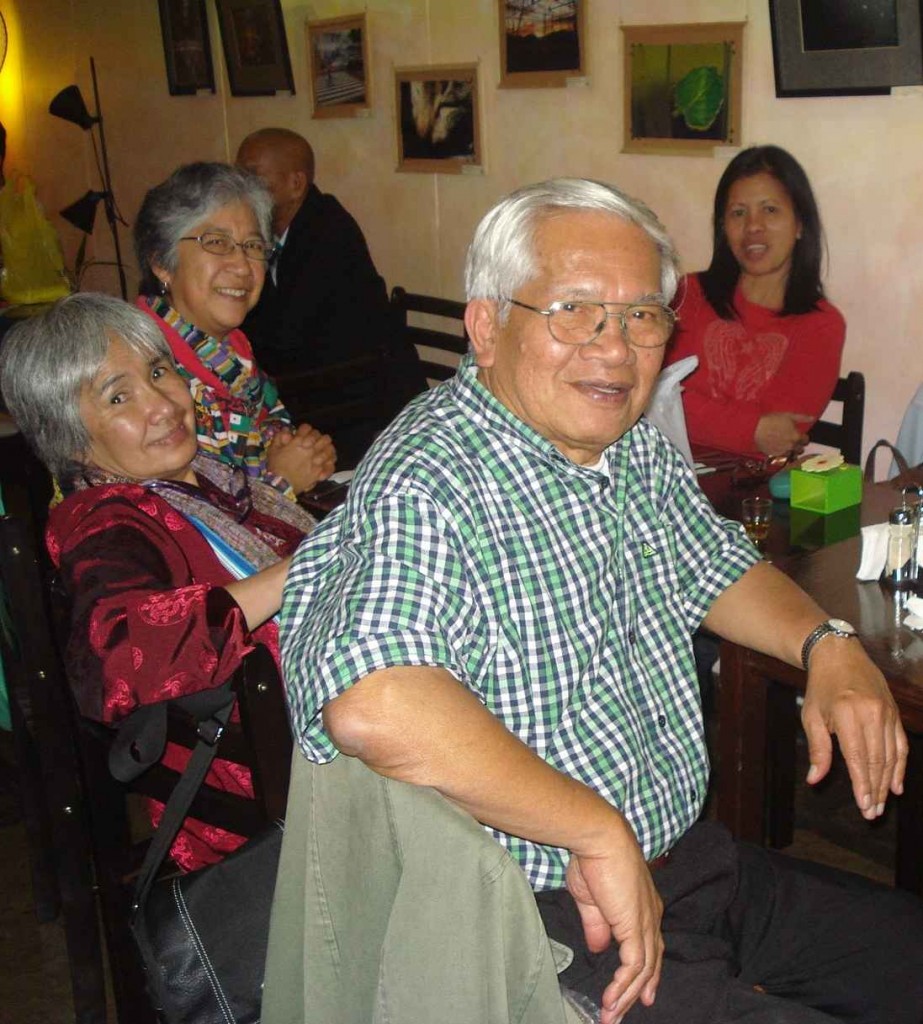 To the last, his intellectual and political heart was as strong as a bull's. But alas, his physical heart began to falter in recent years. Relatives, friends and comrades hoped and helped to stretch his shortened time. At 66, there was so much more to do; it was too soon to go.
Still, without warning last April 30, Manny Loste went ahead just the same, leaving the rest of us to comprehend his sudden loss and contemplate his unmeasured legacy. Suddenly, we all realized we lost a social science teacher, a veteran activist and political leader of the Left, a dedicated family man, and a friend to most everyone he closely worked with.
To former students of schools where he taught, he was "Sir." (It is said that as a political prisoner in Marcos jails, he was so addressed and saluted by military wardens who knew him as a former teacher at the Philippine Military Academy.) Among the younger activists, he was affectionately called "Papa" or "Pops" in recognition of his fatherly-wise yet cool and hip image. To us his contemporaries, he was simply "Manny."
And so at his funeral wake in Baguio City last May 3, we gathered anew to catch precious snippets of Manny. I wanted to share my own fond recollections of him, from the time of our first encounters in the mid-1970s, again during the mid-to-late 1980s, and from 2001 onwards when I closely worked with him on several projects.
Bursting with stories and insights, I nevertheless held back during the night's tribute, as there were so many other colleagues, friends and relatives who also wanted to share theirs.
Just three days before he passed away, Manny and his wife Maureen had attended an activists' reunion and presented their own 12-page narrative aptly titled "Activist Parenting," much of it written by him. It was read again by Mau during the wake—creating the uncanny mood that Manny was still with us, listening to the eulogies and immensely enjoying them.
The stories about Manny awed and amazed and inspired many of us—even those who thought they knew much about Manny's life and past work but were surprised to discover other facets to his personality. Gradually we pieced together a giant jigsaw puzzle about how an eldest child grew up in a big family in Samar, became a working student in UST, then subsequently served as a PMA instructor (with a 2nd lieutenant's commission) who began to open his eyes to wider social issues.
Old comrades—most with greying hair like him—retold how Manny became a Philippine College of Commerce instructor and founding member of KAGUMA during the First Quarter Storm, then a political prisoner and underground activist under martial law, and at the same time a loving husband and father who practiced "activist parenting." Growing in stature, he later became a Baguio-based popular educator and convenor of multisectoral alliances, a regional coordinator and national vice-president of BAYAN MUNA, while remaining a tireless reader and student of current events, and a doting grandfather in his last years.
The rich tapestry of Manny's life could fill a thick book, and this column has not enough space to contain even a small fraction of it. But let me just say that this newspaper had a special place in his heart and in the tributes brought forth during the wake.
As an educator, activist, and organizer among professionals and civic leaders, Manny had a keen sense of the public pulse and the media's role in shaping public opinion. So when several Baguio-based organizations agreed to help set up the Northern Media and Information Network, he was one of its first volunteers.
Separated by a decade in our ages, I nevertheless found in Manny a most trusted colleague, a close and constant brainstorm partner and collaborator, in the uphill work of reviving Nordis (as a news agency) in 2001, setting up its staff, jump-starting its first few issues (as a weekly newspaper) in late 2002, and in coming up with a thousand ideas for sustaining it, which we would then pose to the board of trustees for decision-making. In the earliest issues, this column ("Pathless Travels") was practically a Siamese twin of his column, "Contrary View".
I recall one memorable brainstorm session (around mid-2002, I recall), when Manny and I found a small and quiet drinking hole in the dark underbelly of Baguio, so we could further discuss the persistent suggestion to convert Nordis into a weekly newspaper that generated revenue through street sales, subscriptions and ads.
At that time, we were already freely distributing Nordis as a weekly dispatch of stories in small newsletter format, and saw how other weeklies picked up our stories and gained from our service in various ways. We also saw that other small weeklies like Alfred Dizon's Northern Philippine Times had started to proliferate and establish their own market shares. (Alfred had also worked with Nordis during its early years.) So it was a valid idea: why shouldn't Nordis itself go into the newspaper business and compete with mainstream media?
Like Manny, Kathleen, and the others that made up NMIN, I saw the benefits of a marketable Nordis. But being a stickler for thorough planning (and feeling like a CO on a special combat mission and worried about casualties), I wanted a sure win, with everything in their proper place, before we jumped into the fray.
Manny, on the other hand, was bubbling with optimism and enthusiasm, much like the frothy beer that we poured into our mugs that night. For every cause for worry that I raised about a Leftist newspaper struggling to stay afloat, his counter-argument was to basically rely on the wellspring of support that the people's movement should hopefully provide.
And so it went for a couple of hours, our friendly thrust-and-parry on the pros and cons of turning Nordis into a newspaper.
At the end, Manny convinced me with two arguments. Since both of us were avid readers of Chinese history and often thought like military men, he clinched the discussion with a famous Maoist axiom: "Learn warfare through warfare." In other words, you don't learn to swim by just reading a manual on swimming, by just moving your arms or legs in place. You learn to swim by jumping into the water, perhaps with limbs flailing every which way at first, perhaps haltingly as you cough out water and struggle for every breath, but eventually succeeding because body and mind are focused on just one objective.
As I digested his wise words and started to accept their rightness, my further attempts to find other traps lurking in Nordis' path were stopped by one final statement by Manny. He said, tersely: "If Alfred [Dizon] can do it on his own, why can't we?" It's a sink-or-swim situation, yes. But if Alfred could swim, why were we so afraid of sinking? After that, we made a comrade-in-arms' vow to start the Nordis shift within the month and not to give up in mid-stream.
So there. I've just let out one dark but funny secret of Nordis. We became a weekly newspaper because we—most of all Manny and I—couldn't accept the fact that a fellow journalist could publish his own weekly and survive, while the people's movement that wanted to transform Philippine society could not.
And that, dear readers, is my quick glimpse into the greatness and legacy of Manuel Loste, of hundreds of thousands of activists like him, and of the social movement to which he dedicated the best years of his life and which he ably represented in so many ways. Their secret of survival is by learning from experience and relying on the masses.
This newspaper is part of that legacy. Whenever you see the familiar Nordis masthead being displayed on news stalls and sidewalks (and now on the Web), remember the activist, the teacher, the man, who helped make it possible. # Follow @junverzola
Author's note: I wrote this blog piece for publication in Nordis Weekly's issue for today, 12 May 2013. As it is the eve of the May 13 elections, I also consider this as my special tribute to the many leaders and activists of Bayan Muna and allied partylist groups who have gone ahead, having either died of natural causes (like Manny) or accidental causes (like Ka Crispin Beltran), or in circumstances that clearly count as cases of extrajudicial killings (like Romy Sanchez and Pepe Manegdeg of Ilocos, and Marcus Bangit of the Cordillera).