In 1971, as a "summer-fulltimer" activist of the Kabataang Makabayan (KM) working with MDP's Radyo Pakikibaka, I was a regular visitor at the KM's Boni Center along Quezon Avenue. As was the SOP in activist HQs during those times, the Boni Center prepared its daily fare of food for everyone who happened to be there at mealtimes–whether we were five or 10 or (sometimes, especially during busy protest seasons) 25 or more.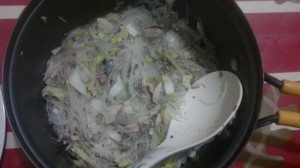 Boni Center had a finance and logistics team that, I supposed, worked with a thin and worn shoestring budget. I only assumed this, because occasionally, a team member would arrive with a big sack or two of vegetable rejects and cabbage peelings, solicited from their local public market contacts. Then we who happened to be around would help out in the kitchen, sorting out the still humanly edible pieces from those that were absolutely fit only for the pigsty cauldron.
The chef of the day would then declare what was to be the piece de resistance for lunch (and all the way to dinner if there were enough leftovers). Everyone would excitedly ask for or await the announcement–as if our budget allowed for a wide menu of choices, which it didn't. More often than not, the main dish for lunch in addition to rice would be the famous "Massacre soup with cabbage and sotanghon." All activists in the HQ would gamely anticipate its arrival at the table with the well-known dramatic gesture of a massacre victim raising her hands in slow-motion, as popularized by the Kamanyang cultural activist troupe. Our faces would be screaming in mock tragedy, shouting not "Massacre! Massacre!" but "Mackerel! Mackerel!"
Well, in the early 2000s, I had missed that Massacre dish so desperately enough that I dared replicate it at the Northern Dispatch office, where we also had a chef-of-the-day (nope, more like slave-of-the-day) system instituted. To my pleasant surprise, my Nordis colleagues seemed to like my recipe.
And so, dear folks, here it is for your consideration: the Massacre Cabbage and Sotanghon Soup for activist fulltimers, at the cost of 18 pesos per head.
5 cloves of garlic
1 bulb of onion
1 thumb of ginger
1 can of mackerel in brine (I prefer the original Hokkaido brand), 425 g
1 pack of sotanghon (Chinese vermicelli), 20 oz
1 head of cabbage or Chinese pechay (although if you really want authenticity, you should ask for a big plastic bagful of dark green cabbage peelings from your suki at the local market), chopped
2 tbsp cooking oil
half-liter water
Mince the garlic, ginger, and onion separately. Meanwhile, soak the sotanghon in a bowl of water. Sautee the garlic until light brown in a big (1-liter) sauce pan, quickly followed by the ginger and onion. Pour the mackerel including the brine into the pan, making sure to crush the mackerel into very small pieces as you keep stirring for 2-3 minutes. Add a half-liter of water, cover pan and bring to a boil. Add the sotanghon, followed by the chopped pieces of cabbage or Chinese pechay, and simmer for 5 min. Salt and ground pepper to taste.
Good for five hefty servings, at an estimated cost of 18 pesos per serving. If you have more mouths to feed and a really short budget, use a bigger caldero for 1-2 liters of water, and add more sotanghon or cabbage peelings as available. We used to feed 20 hungry activists a full and satisfying meal on less than 2 kilos of rice and a huge caldero of Massacre Soup, thickened with nice vermicelli and floating bits of cabbage and mackerel.
Bon appetit, like I did on this rainy Wednesday evening.# Follow @junverzola